How mHealth Technology Improves Population Health Messaging
mHealth platforms are giving health systems and public health programs newer and better ways to reach large populations.
Source: ThinkStock
Healthcare providers are finding out that smartphones and mobile health messaging platforms are changing how they administer population health programs.
The attraction is simple: smartphones, nowadays, are ubiquitous. With roughly 96 percent of the world now using a smartphone, an mHealth messaging program can reach almost everyone in a defined population. And with texting and e-mail overtaking phone calls as the most popular means of communicating, providers can create personalized, content-rich, even interactive messages that drive engagement.
Examples of mHealth-based population health programs are numerous. They include text-message programs targeting public health concerns, such as smoking (Text2Quit), maternal/infant health (Text4Baby), weight loss, physical activity and anxiety/depression. Other programs remind people to schedule wellness visits for their children or flu shots. Then there are those programs targeted at chronic populations with HIV, diabetes, or asthma.
More complex programs include interactive platforms and target post-discharge patients, those in need of follow-up care (such as physical rehabilitation) or chronic care populations requiring care in between office visits. These platforms often include questionnaires that when answered offer links to care management information or trigger alerts that prompt follow-ups from the care team.
At the top of the pyramid are care coordination programs that draw data from the electronic health record to develop personalized messages that direct the patient to specific resources, handle prescriptions or send data back to the provider for follow-up care. These programs are usually developed and launched by healthcare providers looking to improve care management for patients at home, including those recently discharged and so-called "frequent flyers" — patients with multiple chronic conditions who need daily or near-daily interventions to manage their health and keep them out of the hospital.
Dig Deeper:
mHealth Data Adds Detail, Meaning to Population Health Programs
mHealth Messages Connect the Dots in Care Management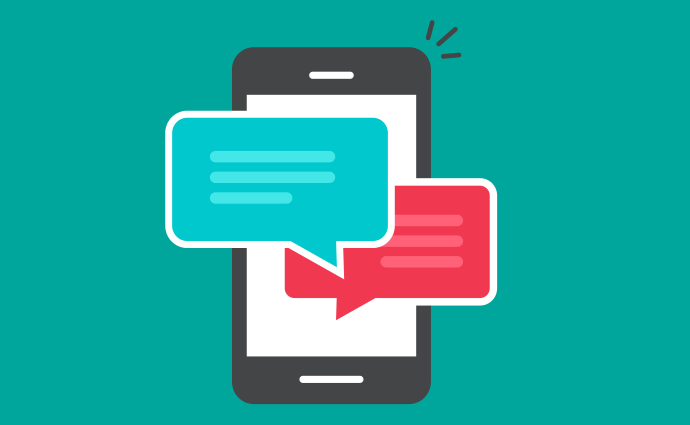 Source: ThinkStock
Why SMS Programs Work
Text messaging programs have been around since at least 2002, according to a systematic review of available literature by Hall et al. published in the March 2015 edition of the Annual Review of Public Health.
These programs have grown to replace older methods of population health, which include phone calls (often handled by a call center), mailings and social awareness campaigns that rely on advertising, be it TV, radio, billboards or, more recently, social media platforms (e.g., Facebook).
With the smartphone in nearly everyone's hands nowadays, providers are turning to short-message service (SMS), or text messaging, followed by multimedia messaging services (MMS) and mobile-messaging apps.
The analysis by Hall and colleagues of more than a decade of published material found that text messaging platforms hold "enormous potential" for healthcare as a "novel, high-reach, highly accessible, and relatively low-cost communication strategy," delivering measurable improvement on health outcomes and, on occasion, health behaviors.
Of the newer MMS platform, the study's authors expect this to become a more popular strategy as more and more consumers shift to smartphones with better messaging capabilities — in other words, better phones with more toys. And with the addition of new services such Facebook Messenger, Kik, WhatsApp, SnapChat and Instagram, providers can add content-driven features like searchable tags and hashtags.
mHealth interventions have many advantages over older methods. Among the benefits:
Reach large populations at a low cost

Able to sent at any time, and as frequently as needed

Offer real-time contact and feedback

Represent an acceptable – oftentimes preferable – means of communicating

Overcome barriers of physical or social isolation

Able to be personalized

Support interactivity, with corresponding messages based on previous responses.

Provide times to remind, support or provide "touches" around healthcare appointments.
Perhaps most importantly, these programs engage more easily with consumers, wherever and whenever they want. They make the consumer feel more comfortable.
"They make you feel like you're in a conversation," says Nancy R. Wharfield, MD, Associate Chief Medical Officer of the Gold Coast Health Plan, a California-based Medicaid plan that uses mHealth to reach out to its members.
Dig Deeper:
mHealth Messaging Offers Providers Vital Revenue Opportunities
mHealth Messages Get High Grades in Medication Adherence Study
Source: ThinkStock
Making mHealth Messaging Work
At its most basic level, a simple text message program can and does work. That point was proven in India, where a 2013 program that sent twice-weekly messages to 1 million people reduced their chances of developing type 2 diabetes, an important goal in a nation where 66 million live with the disease and 1 million die each year.
"This shows the potential for even the most basic of mobile phones to be used as a viable tool to deliver public health messages on a large scale across a diverse population," said lead author Angela Fidler Pfammatter of Northwestern University's Feinberg School of Medicine. "And you just need a basic mobile phone. This can make an impact."
The mHealth platform is also popular in Africa, which contains almost a quarter of the world's disease burden but contains only 3 percent of the globe's healthcare providers and spend only about 1 percent on healthcare.
Closer to home, a text messaging program at the University of Chicago Medical Center launched in 2014 and targeting those with diabetes saw an increase in glycemic control, high patient satisfaction and a 8.8 percent net cost savings over six months.
Aside from those with chronic conditions, mHealth messaging programs have proven effective in reaching underserved populations.
"This is a group whose attitudes and perceptions are incredibly important to understand, but who may not necessarily be taking online surveys or attending community meetings," said Tammy Chang, MD, MPH, MS, an Assistant Professor in the Department of Family Medicine at the University of Michigan Medical School and member of the Institute for Healthcare Policy and Innovation, who launched a text-messaging program in 2014 targeting lower-income African Americans in Detroit.
"We found that texting is not only acceptable and feasible but is the preferred method of collecting real time information from low-income community members," she said. "Most importantly, texting may offer an efficient, inexpensive way to give a voice to people who aren't often heard and whose needs aren't always met.
Dig Deeper:
The Message is Clear: mHealth Can Be Motivational
mHealth and Patient Engagement: Balance the Method With the Message
How to Develop an mHealth Messaging Strategy
There are five key ingredients to a population health messaging program delivered via mHealth:
Population

Message

Frequency

Message delivery strategy

Support and feedback
An SMS messaging program may sound easy, but it's not without its complexities. Large-scale text messaging programs do require software applications and services that can handle message content and delivery scheduling, not to mention a routing service that can handle many different networks.
In 2013, researchers at the University of Colorado's Center for Research in Implementation Science and Prevention (CRISP) put out a 42-page research toolkit for text messaging in healthcare.
"SMS messaging application software supports scripting, scheduling, replying, and routing to an SMS gateway based on pre-configured algorithms, thus eliminating the need for an individual to send, monitor, and respond to each text," the toolkit explains.
"In this process, a sender uses an SMS messaging application to enter necessary data (message script, message sending schedule, messaging algorithms or logic, etc.) An SMS gateway (also known as SMS provider, aggregator, or messaging server) encodes and routes text messages according to the specific requirements of the recipient's wireless network operator or carrier. Network operators have SMS centers (SMSC) that forward the messages to recipients' mobile phones (see figure below). SMS responses are routed back through the same channels."
From there, the development of a text messaging program can be as simple as a one-direction system for sending reminders of educational information, or as complex as a bidirectional platform that gathers replies — either closed- or open-ended — and triggers additional messages.
Privacy and security are also important factors to consider, particularly when dealing with sensitive health information. Providers have to make sure the information they're sending is properly encrypted and they have to make sure that participants know what they're getting and how to shield it from prying eyes. Additionally, target audiences in a messaging program must have a clear mean of opting out of the program. In some cases, instead of having recipients opt out, a provider may want to use an opt-in keyword, requiring users to take action to continue in the program.
To that end, the CRISP toolkit offers four tips: conduct a risk analysis of the program before it's implemented; use only secure vendors; verify each user's identity; and exclude protected health information from messages.
Dig Deeper:
mHealth Platforms Are a Valuable Resource for New, Expecting Moms
5 Test Cases to Prove the Value of Population Health Management
Source: ThinkStock
Make the Message Engaging
Messaging programs won't work unless the target audience is engaged, so it's important to do research ahead of time. What type of message (text, e-mail, even automated messages and phone calls) does this population prefer? How often should messages be sent? What words or emotions most often prompt a response? A program that send too many alerts risks alienating the user, as does a program that adopts a playful tone for a serious message or uses unfamiliar phrases.
The CRISP report also suggests using communication and behavioral change theory to make sure the message is compelling.
"For example, message design that complies with gain frame or loss frame appeals may be more effective," the research toolkit explains. "Research shows that patients are more willing to undergo an unpleasant task or procedure — such as a mammogram or colonoscopy — if they are presented with the positive rewards (gain frame appeal) for that behavior, such as peace of mind."
"Conversely, people are more likely to take action to avoid risks when they are reminded of potential negative outcomes (loss frame appeal) - applying sunscreen to prevent skin cancer, for instance," the report adds. "Thoughtful and deliberate framing of messages will improve the likelihood that your intervention is effective."
A basic text messaging program, according to the Centers for Disease Control and Prevention, follows five guidelines:
Make the message short and concise, preferably less than 160 characters long.

Focus on engagement with timely, relevant and actionable language. Consider beginning with a relevant fact or statistic to draw the user in.

Make it readable. The common rule of thumb is to craft a message at the 8

th grade reading level.

Don't abbreviate unless you have to.

Limit non-Latin on accented letters.
In a wide-ranging study launched by the Department of Health and Human Services in 2014, the Text4Health Task Force identified one more factor in the development of an effective mHealth messaging campaign: Identify and target a gap in care delivery.
In other words, make the message address a health issue that consumers are missing. For a chronic condition (e.g., diabetes), that means crafting a program that addresses care management.
"This type of intervention could address non-adherence to lifestyle recommendations by providing frequent reminders, motivational support and prompts to action, as well as timely access and feedback to relevant health information, while making patient-provider communication much easier," a 2016 study in the Journal of Medical Internet Research noted.
At the end of the day, it's all about getting the right message in front of the right person.
"By sending encouraging messages, reminders to follow care plans, detailed medication instructions and other supportive communications, physicians can not only make patients feel more valued, but they can also drive patients to take actions to improve their own health," says Allison Hart, a vice president with TeleVox Solutions at West. "Since positive health outcomes often mean happier patients, physicians and their teams should look for ways to make technology-enabled engagement communications a routine part of patient care."
This article was originally published on November 10, 2017.
Sign up to receive our newsletter
and access our resources