A Successful Lesson Plan for School-Based Telehealth
Texas-based CHRISTUS Health starts with three schools, expands to 16, and is now looking even further.
- A Texas-based health system is seeking strong success in a small school-based telehealth program by following one simple rule: "Don't have a hammer and go searching for a nail."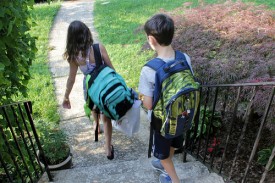 In other words, says S. Luke Webster, MD, vice president and CMIO of CHRISTUS Health, use what you have to address a specific need, and then branch out from there.
The huge health system, comprising more than 60 hospitals and long-term facilities and close to 200 clinics in six states, Mexico and Chile, started roughly two years ago with a three-school project in the Houston area. The system had seen success with remote patient monitoring and teleneurology pilots launched in 2012, and wanted to partner with its charitable arm, the CHRISTUS Foundation, which was already providing some mobile health services to the 16-school district.
School-based telehealth is one of the fastest-growing segments of the industry, with remote clinics and platforms springing up in schools, school districts and colleges throughout the country. Many are based on partnerships between school systems looking to reduce absenteeism and health systems looking to expand their reach and reduced the stress on hospital ERs.
Speaking during a session at last week's HIMSS16 Conference and Exhibition in Las Vegas, Webster and Ellen Ford, a connected care specialist with the system's health informatics division, said the school district was relying on four nurse practitioners and two assistants. They moved around frequently, trying to visit as many schools as they could, but there were far too many gaps.
So CHRISTUS came in and set up a telehealth platform, placing one nurse practitioner in a central location and equipping assistants with telemedicine kits that include a video link to the NP. Once the assistant met with the student or staff member at the school and collected vital signs, he or she would then send a text message to the NP, and they'd set up a video consult.
"It's really just like a regular doctor's visit," Ford said.
The pilot was quickly expanded to all 16 schools last year. Ford said they expected 100 consults during the first year, and got more than double that number. And where students and staff used to stay home from school or were sent home if they showed up sick, they now could be seen by a clinician at school. That cut the district's absentee rate by about 92 percent.
Ford said the program also resulted in quicker care. Where it would once take close to a half-hour for a sick student or staff member to gain access to a healthcare provider, the new program made sure that connection was made – by video – within 20 minutes, often sooner. That, in turn, pushed the satisfaction rate for the program up to 98 percent.
Webster said parents weren't shy about praising the program.
"We have some great stories," he said.
It also had its challenges, ranging from spotty connectivity in schools to privacy and security concerns to some resistance from school officials.
Among the lessons learned, said Ford: Conduct your own technical assessments, rather than relying on the schools to do them; provide a dedicated team of technicians (like a Geek Squad) to address issues quickly; make sure all parents have access to consent forms, especially online; and "educate, educate, educate."
"Getting traction and moving forward has been a challenge, but the national mood is really shifting," said Webster, who's looking to expand the program to other school districts as well as to CHRISTUS Health's own 45,000-employee network.
He also wants to expand the telehealth network beyond quick one-and-done interactions, such as providing access to specialists. "I also personally think there's a huge opportunity here for wellness," he added.