Aetna, Apple Launch mHealth Partnership
The payer will be supplying - in some cases free of charge - employees and members with Apple Watches and developing iOS-specific mHealth programs.
- Aetna is turning to Apple to get its members more interested in mHealth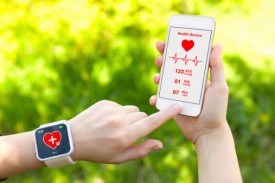 The payer is launching a new initiative to provide Apple Watches – in some instances fully subsidized – to employees and select member populations, beginning this fall. In addition, the company will launch a number of iOS-only health initiatives early next year, accessible on the Apple Watch, iPhone and iPad.
"We are incredibly excited to use iPhone, iPad, and Apple Watch to create simple, intuitive and personalized technology solutions that will transform the health and wellness experience for our members," Mark Bertolini, Aetna's chairman and CEO, said in a Sept. 27 press release. "This is only the beginning – we look forward to using these tools to improve health outcomes and help more people achieve more healthy days."
"We are thrilled that Aetna will be helping their members and employees take greater control of their health using Apple Watch," Apple CEO Tim Cook added. "Aetna's new initiatives will be a powerful force toward creating better customer experiences in healthcare, and we look forward to working with Aetna to make them successful."
The move seeks to place Apple products in the hands of Aetna's estimated 46.3 million members, and create an mHealth platform that encourages them to manage their health and wellness online and on the move.
Some critics wonder whether the move could create a patient engagement problem for the payer, dividing Apple and device-agnostic consumers from those who prefer Android devices.
"With support from Apple, Aetna is planning several iOS-exclusive health initiatives, starting with deeply integrated health apps for iPhone, iPad and Apple Watch that will significantly improve the ability of consumers to manage their health and increase healthy outcomes," officials said in a press release. "The initial solutions under development are among the first health apps designed for multi-device use."
Through this platform, Aetna members will be able to receive care management and wellness advice, including support from clinicians and peers; manage their medications; access and manage their personalized health plans; and manage their healthcare finances via Apple Wallet. These features will be available in early 2017.
The inclusion of the Apple Watch adds a wearable to the health plan's arsenal.
According to officials, Aetna's nearly 50,000 employees will receive Apple Watches free of charge, in a bid to boost the company's wellness reimbursement program. During open enrollment season this fall, the insurer will make the smartwatches available to large employers and individual customers, offering monthly payroll deductions to help with the cost.
Aetna's news follows a recent report from ABI Research that estimates more than 44 million wearables will make their way into wellness plans over the next five years.
The New York-based analyst also noted that incorporating wearables into a wellness plan boosts employee participation from 20 percent to 60 percent to 70 percent, with some companies even reporting 90 percent participation.
"Corporate wellness is a vanguard market for the integration of mHealth wearables and healthcare management," Jonathan Collins, research director at ABI Research, said in a separate release. "The integrated system that delivers effective, secure and efficient data collection, analysis, and integration for wellness programs has the potential to be leveraged in a new generation of healthcare-centric patient management offerings."
Dig Deeper:
New Survey Blames Healthcare for mHealth's Struggles