Ambulance Company Eyes mHealth Reliability With FirstNet Platform
Acadian Ambulance will be one of the first EMS providers to use FirstNet, a national broadband network designed to ensure mHealth connectivity for first responders. That reliability will become more important as companies like Acadian adopt more telehealth tools.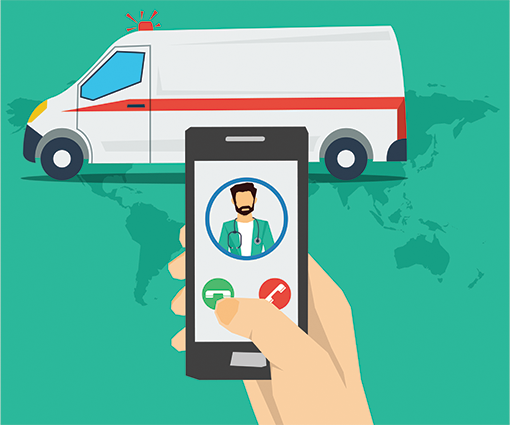 Source: ThinkStock
- A private ambulance service serving three southern US states will soon be using mHealth and telehealth devices on a specially designed broadband network to improve care coordination and management.
Acadian Ambulance, based in Lafayette, La., and serving Louisiana, Texas and Mississippi, is among the first to tap into the First Responder Network (FirstNet) Authority, a public-private broadband network powered by AT&T and dedicated to police, fire and emergency response services across the country.
"We're in the life and safety business," says Joey Branton, director of technology for the company, which comprises close to 400 ambulances and 8 helicopters and deals with roughly 2,000 patients a day. "We have a 100 percent mobile workforce all the time that uses a tremendous amount of real-time data. If we don't have (connectivity), we are in trouble."
Unveiled in 2017, FirstNet pledges to be the first dedicated broadband network for emergency healthcare services, and stands at the forefront of a national effort to improve connectivity in rural and remote areas for telehealth and telemedicine.
This effort is focused solely on first responders, who rely on some 10,000 commercial networks across the country to connect with healthcare systems and each other. As such, they're at the mercy of bad terrain, weather and any other issues that plague the typical consumer trying to make a cellphone call – not to mention they're sharing the same lines with all of those consumers.
READ MORE: Planning a Hospital Strategy for Broadband, Telehealth Expansion
"The EMS community fought for FirstNet – this is our network, and it's great to see Acadian Ambulance leading the way," FirstNet Authority Board Member Kevin McGinnis, who serves as Communications Technology Advisor for five national EMS associations and spent a decade as Maine's EMS director, said in a press release. "With FirstNet, EMS personnel now have a dedicated, reliable and secure connection to quickly share lifesaving information and help improve patient outcomes."
"We took action when first responders said they needed better tools to keep their communities – and themselves – out of harm's way. FirstNet will help first responders across the country perform at the highest levels," added Maria Lensing, AT&T's vice president of Global Healthcare Solutions.
Officials recently announced that more than 2,500 public safety agencies have signed on to join FirstNet. And the platform has already helped fire and rescue crews fighting wildfires in oregon.
"Our crews have been battling a number of wildfires across the state of Oregon, and during each, FirstNet has proved its value as public safety's network platform," Tualatin Valley Fire and Rescue Chief Mike Duyck said in a press release issued by AT&T. "From boosting communications at base camp during our response to the Miles Fire to connecting our firefighters on the front line of the Ramsey Canyon Fire, we've been able to count on our FirstNet service to elevate our ability to effectively and efficiently achieve our mission."
Branton says his paramedics are "very, very, very anxious for (FirstNet) to actually get legs up under it."
READ MORE: Using Telehealth Technology for Care Coordination During a Disaster
"Using the same bandwidth as everyone else is crazy," he says. "This really present a care delivery problem."
As an example, Branton envisions a medical emergency at a New Orleans Saints home game. One person in the midst of more than 70,000 attending a football game at the Superdome needs help, and an ambulance crew has to locate and treat that person during a game – or worse, at the end of the game, when everyone is leaving and using their phones to call friends, order an Uber or find out what the family wants on their pizza for dinner.
"We're competing with everyone then for the same bandwidth," he says, "and we're definitely more important than somebody wanting to talk after the football game. But (on a commercial network), you can't separate those two needs."
The situation becomes acute as care providers like Acadian adopt more mHealth and telehealth tools and platforms, including wireless devices, telestroke services and smartphones and tablets that share health data.
"We're not only just using more data, but we're moving more data," Branton says, noting the company is currently piloting a telestroke program in which its ambulances are connected to specialists by video for stroke consults. "This ultimately has an effect on patient care."
READ MORE: FCC Eyes Support for Telehealth, RPM Projects Serving Rural America
According to FirstNet, the IP-based, high-speed, 20 MHz mobile communications platform is designed to:
Improve rescue and recovery operations to keep first responders out of harm's way;
Better connect first responders to the critical information they need in an emergency;
Further the development of public safety-focused IoT and Smart City solutions such as providing near real-time information on traffic conditions to determine the fastest route to an emergency; and
Enable advanced capabilities, like wearable sensors and cameras for police and firefighters, and camera-equipped drones and robots that can deliver near real-time images of events, such as fires, floods or crimes.
In a 25-year agreement between FirstNet and AT&T, FirstNet will provide some $6.5 billion in success-based payments over the next five years to support the network, using money raised from spectrum auctions organized by the Federal Communications Commission. AT&T, meanwhile, will spend about $40 billion over the life of the contract to build, deploy, operate and maintain the network.
Branton says the platform will give his paramedics "the promise of priority and pre-emption," so they won't have to compete for connectivity. It will also help Acadian improve its bottom line by eliminating monthly cost overruns caused by the need to purchase more data.
"We're in the business of mobile medicine," he says. "And that's becoming more important as more clinical protocols and treatments inside the hospital are moving outside the hospital. We need to be able to provide reliable information without having to worry about other things."
"In the end, I don't want to concern myself that a cardiac rhythm isn't going where it needs to go."