An mHealth Dilemma: Can Wearables Generate Medical-Grade Data?
A new partnership illustrates the need to make consumer-facing health and fitness wearables relevant to healthcare providers.
- A new partnership pledges to tackle one of the most vexing problems in mHealth – ensuring that data gleaned from wearables is accurate enough for clinical use.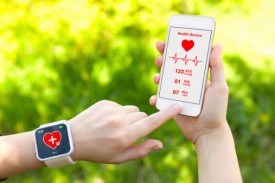 Analog Devices and LifeQ are joining forces to "make it possible for non-invasive body monitoring devices to provide highly accurate physiological data that currently is only available through the use of expensive, invasive and hard-to-access equipment," according to a joint press release. Their goal is to develop sensors that accurately track data for the user and send that information to the user's care team.
"The development of smart wearable sensors is essential to supercharge the next generation of non-invasive body monitoring solutions," James Doscher, general manager of Analog Devices' Industrial and Business Healthcare Group, said in the release. "ADI offers the semiconductor expertise and LifeQ provides the bio-mathematical understanding needed to develop sensors that can make body monitoring devices even more effective in preventing, predicting and managing diseases."
Doscher said the new technology would also improve patient engagement – yet another sticking point in the advancement of mHealth wearables.
"This … will impact how doctors and patients share information, interact and make decisions about patient care," he said. "Patients can have greater access to vital data about their own bodies and be more involved in their overall health and wellness."
Healthcare providers have been slow to embrace consumer-facing wearables like Fitbits, Jawbones and Apple Watches because they don't trust the information or can't find a way to use it. Instead, they're using more expensive medical grade devices for remote patient monitoring programs, which ensure data validity but often drive up the cost of the program, making it less sustainable.
This past February, Philips announced plans to develop its own line of medical-grade biosensors, starting with patients in low-acuity settings in the hospital but eventually transitioning to patients on home monitoring programs. Companies like Validic, meanwhile, are developing mHealth platforms that legitimize for providers the data taken from wearables.
Jonathan Collins, principal analyst at ABI Research, says the enduring popularity of consumer-facing wearables is propelling healthcare innovation in new technology – from better sensors to more sophisticated algorithms – to make wearables clinically relevant.
"While activity trackers are far from being medical devices, their ongoing appeal is pushing investment into the network platforms and infrastructure required to bring mHealth data into the realm of healthcare services," he said. "Consumer-focused companies, including Apple, Google and Samsung, have all begun to develop ways to bring consumer activity data into patient management. Meanwhile, established medical equipment players, such as Philips Healthcare and GE Healthcare, have recently launched their own mHealth platform plays."
James Mault, chief medical officer for Qualcomm Life – whose 2net platform is based on taking medical-grade data from devices and making it useful to clinicians – says consumer-grade physiological data is still useful to doctors as long as they understand the limitations. For example, a hospital tracking patients at home through Fitbits can look for trends in the information but shouldn't base decisions on individual data points.
"And that's OK – as long as the clinician is aware of that," Mault said in a March 2015 interview with mHealth News. "That data is still going to be important. … (But) if you're going to make life-and-death decisions, you're going to want to use a medical grade solution."
"What's fun now is watching the natural evolution of the market," Mault said then. One year later, that evolution may be speeding up.