Are Retail Clinics Changing the mHealth Business Dynamic?
A new RAND study finds that retail clinics aren't replacing ER visits. But they may be the linchpin in a new healthcare ecosystem that compels the consumer to ask more questions.
- Retail medical clinics aren't replacing ER visits, according to a RAND Corporation study. But they may be creating a new dynamic in on-demand healthcare that either boosts costs or prompts consumers to be more health-conscious.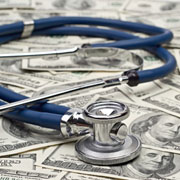 A five-year study of more than 2,000 hospital emergency departments in 23 states has found that retail clinics operating nearby aren't drawing patients away from the ER for 11 low-acuity health issues, such as earaches, bronchitis or urinary tract infections.
The study, conducted by Grant Martsolf and Ateev Mehrotra and published online in the Annals of Emergency Medicine, may even make the case that such clinics are adding to the healthcare burden on Americans by being too convenient.
"Retail clinics have been promoted as a disruptive innovation in healthcare," says Mehrotra. But instead of substituting for what's available, or replacing the ER visit with something much less expensive, he says, they're adding to the mix by giving consumers an easy place to visit instead of staying home and waiting out a minor issues.
"Instead of lowering costs, retail clinics may be substituting for care in other settings such as primary care practices or spur some patients to seek care for problems they previously would have treated on their own," says Martsolf.
READ MORE: Direct-to-Consumer Telehealth: One Hospital's Virtual Care Plan
This isn't the first time such a theory has surfaced. Mehrotra, an associate professor at Harvard Medical School and an adjunct researcher at the RAND Corporation, spearheaded a similar study earlier this year with backing from the Robert Wood Johnson Foundation. That study indicated consumers with low-severity illnesses who had access to a retail clinic would visit the clinic rather than sitting home and coping with the discomfort. That led researchers to conclude that consumers are using the clinics solely due to the convenience, and are accessing healthcare services more often.
"While retail clinics do allow some users to lower their medical spending, the new use of medical services outweighed the savings from the substitution we observed among the large group of people we studied," Scott Ashwood, that study's lead author and an associate policy researcher at RAND, said in a March press release.
Interestingly, another study – this one in Canada – posed the theory that ER visits are increasing due to consumers who are self-monitoring at home.
That study, announced this past July and conducted by Clare Atzema, an emergency physician at Toronto's Sunnybrook Health Sciences Center, found that people using mHealth devices to monitor their blood pressure at home aren't getting the guidance they need from healthcare providers to understand their blood pressure readings. As a result, they're showing up in ERs.
"People don't know what to do with the numbers," she told the Toronto Globe and Mail. "People don't understand how variable blood pressure can be."
READ MORE: Store-and-Forward Telehealth Service Replaces the Office Visit
Taken together, the three studies point to a changing landscape for the consumer, one brought on by the advent of consumer-centric healthcare. Not only does mHealth give the individual an opportunity to take a more active role in care management at home, but the introduction of more mobile healthcare options gives him or her more choices to consider.
Martsolf says it seems as if healthcare is becoming more fragmented, leading to more healthcare visits and increased costs. But it might also mean that consumers are more conscious of their healthcare options, and are seeking help earlier rather than waiting for a minor condition to become more serious. Who's to say that nagging cough that could be treated with a day or two at home doesn't develop into pneumonia, or signal some other serious respiratory condition?
"We have a very, very different landscape now," says Mehrotra, who noted his latest study didn't delve into the cost implications of retail clinics.
Martsolf and Mehrotra say the retail clinic might also be drawing consumers away from more costly and disruptive visits to the doctor's office. In that case, they're getting more convenient care and freeing up doctors to concentrate on those cases who do need in-person care.
"I think you're going to some a need for more coordination," says Martsolf. "Retail clinics may be filling a void" created by doctors' offices, who in turn are changing their business plans to be more sustainable. In that case, a retail clinic will fit one need while the doctor's office would fit another, a hospital ER would fit another and a telehealth platform would fit yet another need.
READ MORE: Broadband Problems Derail Montana's Telemedicine Legislation
"This could change the debate about their merits," adds Mehrotra, who notes that studies indicate one in three people who feel ill actually seek medical help. "What exactly is a 'good' visit? This could become a philosophical question."
Dig Deeper:
Retail Clinics Are Forcing Providers to Be Creative
ATA to Providers: Use Telehealth to Compete Against Retail Clinics