ATA Lobbies Medicare for More Telehealth Reimbursement
The organization has submitted a list of 35 CPT codes to CMS, asking the federal agency to reimburse providers who use telehealth for rehabilitation, physical therapy, home dialysis, critical care services and behavioral health.
- The American Telemedicine Association is lobbying Medicare to reimburse physicians for a number of services conducted via telemedicine.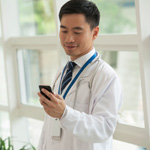 In a letter to the Centers for Medicare & Medicaid Services, the ATA is asking that 35 of the American Medical Association's Current Procedural Terminology (CPT) codes be recognized in the proposed 2017 Physician Fee Schedule for Medicare. The codes focus primarily on rehabilitation and physician therapy, including speech language pathology, but some also address home dialysis, critical care and behavioral health.
ATA officials argue that most of the services outlined for reimbursement are already being handled by healthcare providers through telehealth, with ease and outcomes at the same level or better than in-person care. Throughout the 31-page document, they repeatedly refer to studies and programs that focused on delivering services to patients via two-way, real-time audio and video channels, saying these methods have proven themselves in reducing costs and improving outcomes.
In lobbying for reimbursement for telerehab services, the ATA offers a long and detailed list of the types of services that could be handled via telemedicine.
"(A)dvances in rehabilitation care have been made in the recent decade by relying on using telehealth technologies that include measuring for and generating wheelchair prescriptions; neurological assessments; adaptive equipment prescriptions and home modifications; ergonomic assessments; functional exercise programs; activities of daily living (ADLs) skills training; self-care training; caregiving support; adjustment and clinical support of prosthetic devices; school-based services, including handwriting performance; early intervention (IDEA Part C services); health and wellness programming; and rehabilitation for individuals who have experiences stroke, breast cancer, traumatic brain injury, polytrauma, Parkinson's disease, and other neurological and orthopedic disorders," the letter states.
The ATA also makes note of the Veterans Administration's use of telehealth to connect with veterans in their homes or remote clinics, and asks CMS to "provide the same opportunity for equality in access and care outcomes as does the VA."
With regard to critical care and telestroke services, the ATA pointed out that telehealth platforms have been used since 2006, and are now considered mainstream in light of the ever-growing shortages of intensivists and stroke neurologists. "Continued reluctance on the part of CMS to add critical care codes 99291 and 99292 constitutes nothing short of denying Medicare beneficiaries the right to higher levels of care than are available locally and subjects those same beneficiaries to the risks and mortality associated with delayed diagnosis, intervention and unnecessary transfer," the organization argued.
The ATA's long-time lobbying efforts for CMS reimbursement of telehealth paid dividends in 2014 when CMS included seven CPT codes in its 2015 Medicare physician fee schedule for remote management of chronic care patients.
"It has been a long time coming, but this rulemaking signals a clear and bold step in the right direction for Medicare," ATA CEO Jonathan Linkous said when CMS released the codes document in November 2014. "This allows providers to use telemedicine technology to improve the cost and quality of healthcare delivery."
The AMA, meanwhile, has launched its own 50-member workgroup to develop new CPT codes, with particular interest in remote patient management and chronic disease tools. This could, in turn, lead to more reimbursement for telehealth services.
"The CPT code set is the foundation upon which every participant in the medical community - physicians, hospitals, allied health professionals, payers and others - can efficiently share accurate information about medical services," AMA President Steven J. Stack, MD, said in an October press release announcing the workgroup's launch. "Input from the Telehealth Services Workgroup will help the CPT code set reflect new technological and telehealth advancements available to mainstream clinical practice, and ensures the code set can fulfill its role as the health system's common language for reporting contemporary medical procedures."