ATA Presses DEA to Loosen Telemedicine Restrictions for Prescribing
The American Telemedicine Association is lobbying the US Drug Enforcement Agency to amend the Ryan Haight Act to allow providers to use telemedicine to prescribe controlled substances.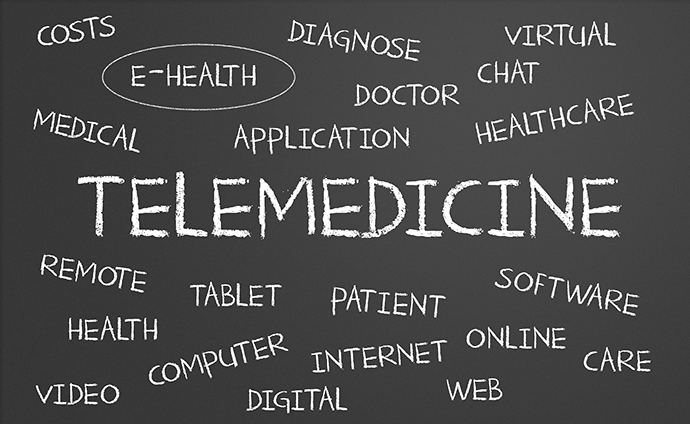 Source: ThinkStock
- The American Telemedicine Association is urging federal authorities to loosen the reins on regulations that restrict mental health professionals from prescribing controlled substances via telehealth.
In a letter to the U.S. Drug Enforcement Administration (DEA), the ATA called for changes to the Ryan Haight Act that would allow specially certified healthcare providers to prescribe those drugs without first conducting an in-person examination.
"The telemedicine community has long advocated for activation of special registration to relieve the regulatory impasse that confronts many telehealth prescribers," ATA CEO Ann Mond Johnson said in the letter, dated Jan. 9. "Activation of the special registration provision will not only allow additional prescribers to use telemedicine to combat the opioid crisis, but also provide the broad range of medical disciplines an avenue to expand access to quality care."
The letter features five recommended changes to the Ryan Haight Act, the landmark 2008 law that prohibits physicians from prescribing controlled substances electronically until they have conducted an in-person examination. That law includes seven so-called "practice of telemedicine" exceptions, but those exceptions need DEA approval to be activated.
The ATA's recommendations are:
Update the current DEA registration process to specify distinctions between traditional and telemedicine prescribing privileges.
Allow both sites and prescribers to register for telemedicine.
Allow for a public comment period within the one-year timeline for special registration activation.
Ensure that telemedicine special registration is not restricted to any single discipline.
Allow telemedicine prescribers to apply for DEA registration numbers in multiple states at once.
READ MORE: Congress Takes Aim at Opioid Crisis With Telehealth Expansion
The ATA is among several organizations that have long lobbied for the feds to loosen restrictions and allow certified providers to prescribe controlled substances via virtual care. Telehealth and mHealth advocates say providers should be allowed to use connected health technology to reach more people in need of care and overcome barriers to access that may be geographical, cultural or economic.
The path to federal recognition has been complicated.
In 2016, the DEA announced that it would consider activating the telemedicine exceptions to allow providers to use connected care technologies to prescribe controlled substances. The agency said it would do so in 2017, but nothing was done.
In early 2018, President Donald Trump pledged to declare a national emergency to deal with the opioid abuse epidemic. That would have included giving federal agencies like the DEA more power to bring digital health and other resources to bear on drug abuse treatment.
"(T)he DEA has been extremely slow in correcting it to allow telemedicine to be used to treat addicts," Peter Yellowlees, then president of the ATA and a psychiatrist at UC Davis, told Politico. "There are quite a few addiction specialists and psychiatrists who would be happy to work via telemedicine and who currently cannot do so because of the (regulatory) restrictions."
READ MORE: Using Telehealth to Coordinate Care for Substance Abuse Disorders
In a March 2018 blog, Nathaniel Lacktman, an attorney with the national law firm of Foley & Lardner and chair of its Telemedicine and Digital Health Industry Team, and his colleague, Thomas B. Ferrante, a senior counsel with the firm, wrote a blog noting the Ryan Haight Act's telemedicine exceptions, if enacted as is, would still be too restrictive.
"The Ryan Haight Act does not per se prohibit the use of telemedicine to prescribe controlled substances, and a provider may do so if he or she has conducted at least one in-person exam of the patient or meets a 'practice of telemedicine' exception to the Act's in-person exam requirement," they wrote. "The problem is the 'practice of telemedicine' exceptions are very narrow, highly technical, and simply outdated. For example, the Ryan Haight Act does not have a 'practice of telemedicine' exception if the patient is at home, school, or work."
"The practice of telemedicine has evolved exponentially in the decade since the Ryan Haight Act was passed, and the regulations fail to account for how legitimate telemedicine services are delivered today," they added. "For that reason, the exceptions do not easily align with direct-to-patient service models frequently sought by patients in areas such as telepsychiatry or substance use disorder treatment. In addition, there is a nationwide shortage of psychiatrists and board certified substance abuse addiction specialists, coupled with the nation's tragic opioid crisis, making telemedicine services an attractive resource."
In late 2018, President Donald Trump signed the SUPPORT for Patients and Communities Act, a massive bill designed to tackle the nation's ongoing opioid abuse epidemic through dozens of bills submitted by lawmakers throughout the year. One of those bills was the Special Registration for Telemedicine Act of 2018, which requires the DEA – by Oct. 24, 2019 – to set the ground rules for providers with a special registration to prescribe controlled substances.
Lacktman, whose firm worked with the ATA on its recommendations, noted the SUPPORT Act was changed before passage to specifically require the DEA to gather public comments – thus enabling the ATA and others to make their opinions heard.
READ MORE: Indian Health Adds Telemedicine to Opioid Abuse Treatment Strategy
"The draft bill originally required the DEA to issue interim final regulations," he said in a recent blog. "Had that version been signed into law, the DEA would have been directed to simply publish the rule with an arbitrary specified effective date, without a 'first draft' in the form of a proposed rule and without considering public comment in response to a proposed (which is exactly what happened 10 years ago when DEA published interim final regulations implementing the Ryan Haight Act on April 13, 2009). Fortunately, the final version of the bill signed into law instead sets a one-year deadline for DEA to promulgate final regulations. And the law affords DEA ample time to issue proposed rules, allow a 60 or 90-day period for the public to submit comments, and then promulgate the final regulations after considering those comments."
"The recommendations are designed to strike a balance between the country's great need for additional behavioral health resources, commonly accepted clinical practices, the evolving landscape of telemedicine technologies, and DEA's charge to protect the safety and wellbeing of citizens via drug diversion," he concluded.