Baltimore Launches mHealth Program to Reduce 911 Calls, ED Transports
Baltimore's new Mobile Integrated Health program, a connected health service showing up in communities across the US, will use trained paramedics and nurses to coordinate care for underserved populations who often call 911 for non-emergency needs.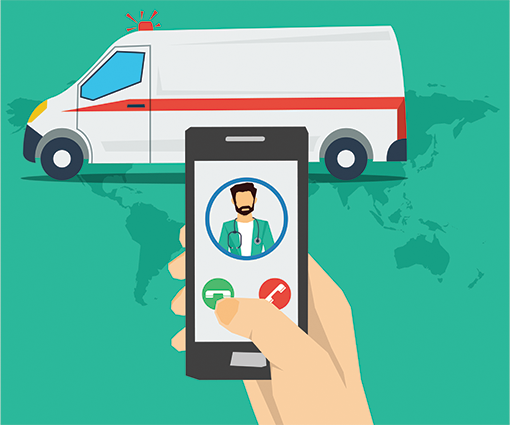 Source: ThinkStock
- The University of Maryland Medical Center is partnering with Baltimore city officials to launch an mHealth program aimed at reducing 911 calls and ER transports and improving care access and management for the city's low-income residents.
UMMC is coordinating a two-year pilot for the Mobile Integrated Healthcare – Community Paramedicine (MIH-CP) program, an innovative connected health service that deploys trained paramedics and nurses to help residents with chronic conditions and those who call 911 for non-emergency health issues.
"Mobile Integrated Healthcare is patient-centered and incorporates a holistic approach focused on the improvement of patient outcomes," Mohan Suntha, MD, MBA, UMMC's president and chief executive officer, said in a press release. "Our goal is to meet the health care needs of our community members and to improve health disparities for West Baltimore residents."
Community leaders, health systems and emergency response providers across the country are launching MIH programs in an effort to reduce unnecessary 911 calls and transports and improve the health and wellness of underserved populations – especially those with chronic conditions who use the ER as their primary source of healthcare.
The West Baltimore program will be divided into two parts:
Minor Definitive Care Now, in which trained nurses or paramedics are dispatched to 911 calls to determine whether a transport is necessary, and to coordinate care for those who don't need to go to the hospital; and
Transitional Health Support, in which selected patients with chronic conditions that have resulted in frequent hospitalizations are visited by care teams at home for care management and coordination.
National surveys estimate that 15 percent of all emergency transports could have been avoided through access to better care. Baltimore officials, noting that 80 percent of all Baltimore City Fire Department 911 calls are for EMS services, figure that percentage is higher for them, especially in West Baltimore, where residents struggle with access issues, low health literacy and a high percentage of chronic diseases.
"As one of the busiest EMS systems in the US, per capita, MIH-CP sheds light on the need for additional resources that support the Baltimore City Fire Department," Baltimore City Fire Chief Niles Ford said in the press release. "The high demand from non-emergency patients affects hospital and emergency department overcrowding and severely limits the number of medic units available to rapidly respond to medical emergencies. As a result, MIH-CP's focus is on enhancing patient care with home visits, community medical intervention and a more personalized medical treatment option that will mitigate the strain on our emergency departments and EMS providers."
City officials are estimating that a third of all 911 calls could be resolved through the Minor Definitive Care program, resulting in better care management for some 2,000 residents and saving more than $1.4 million a year in healthcare costs.
With Transitional Health Support, UMMC and city officials expect to identify 50 patients who qualify for the program, which will last for about 30 days per patient. That program is expected to save the fire department $300,000 a year in transport costs and UMMC $3.5 million a year in avoidable emergency care costs.
"This innovative new partnership with the University of Maryland Medical Center offers the potential to transform the health prospects of those in our community most at risk," Baltimore Mayor Catherine E. Pugh said in the press release. "Through this integrated mobile healthcare delivery model, we will reduce the burden on emergency medical personnel and on emergency rooms across our City, while still providing superior care to our underserved citizens."