CHIME's Most Wired Survey Finds Telehealth Still Needs a Boost
Healthcare providers are using patient portals to pass along information and communicate, CHIME reports, but they haven't yet convinced those patients to try out a virtual visit.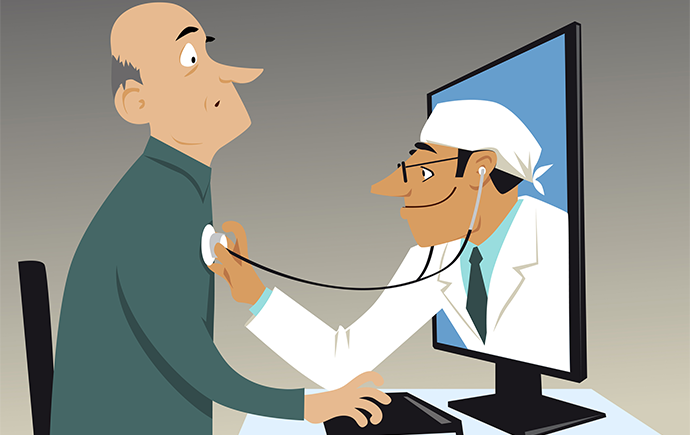 Source: ThinkStock
- Healthcare providers are using sophisticated patient portals to improve patient engagement, but they're still lagging in connecting with patients for virtual care visits.
According to the College of Health Information Management Executives (CHIME) annual Most Wired survey, providers are using portals to educate patients and their families about care services and education resources. More than 60 percent of those surveyed use the portal to introduce patients to their care plan and care team, send along care videos and enable secure e-mail conversations.
But only 38 percent are using the portal to conduct telehealth visits.
"While this may seem low compared to adoption of other capabilities, it is actually high given that virtual care is still developing and few patients have participated in it," the report noted. "The progress of virtual care may indicate that the industry is approaching around-the-clock connectivity as telehealth enables clinicians to provide more direct, more accessible care."
CHIME surveyed more than 600 IT executives for the annual report, which had previously been conducted by the American Medical Association. Aside from patient engagement and telehealth, the survey also looked at integration and interoperability, security and disaster recovery, and population health management and value-based care.
READ MORE: Health System CIOs Are Ready to Take mHealth to the Next Level
"With the ever-growing need to improve healthcare, the research now adds a new emphasis on measuring key areas that can help advance the industry as well as on gathering information about organizations' technology strategies (which include not just technology adoption but also the refinement of processes and the development of people)," CHIME said.
"With this new focus, this year's research and future Most Wired research can help identify gaps in healthcare organizations' technology adoption and strategies and highlight areas in which the industry has opportunities to make progress."
In terms of patient engagement, the report noted that providers are making strides in creating patient portals that improve engagement and offer more resources, but they still have work to do to personalize the patient experience.
"Offering these capabilities is critical to successfully engaging patients, but it is only half of the solution to a challenging puzzle," the report noted. "The second part of the solution is encouraging patients to engage in their own care. Patients must actually use the offered technologies in order for meaningful outcomes to be achieved, such as reduced healthcare costs and increased patient satisfaction."
As far as telehealth is concerned, that means providers have to move beyond using connected care technologies for information and communication.
READ MORE: Is Convenience a Problem for Direct-to-Consumer Telehealth Programs?
"Although barriers like reimbursement limitations and evolving regulations currently prevent healthcare organizations from harnessing the full potential of telehealth services, 89 percent of participating organizations offer some form of telehealth services," the report said. "Most of these organizations are still early in their telehealth journey; few offer focused telehealth services such as eICU, rehabilitation, genetic counseling, or skilled nursing services. Additionally, outside of the hospital or physician office, access to telehealth services is limited. By continuing to expand access to telehealth services, and to expand the types of services offered, provider organizations can reap the full benefits of telehealth technologies and enable their patients to do the same."
Telehealth and mobile health also play a role in integration and interoperability. According to the CHIME survey, most of the health systems surveyed are enabling their providers to access data electronically – but only half of those providers can access information through mobile devices.
"Adoption of secure messaging also lags behind other remote access functions," the report continues. "Both represent opportunities for the industry to advance the current communication infrastructure."
One positive note: The study did find that 60 percent of providers surveyed can conduct virtual visits from outside the health system – meaning the platform is available for use, if only more patients would use it.
Finally, the CHIME study noted that providers are moving slowly on population health programs, particularly because they're still trying to navigate their way from a fee-for-service model of care to one that spreads out the risk and focuses on value-based care. This is especially true in care management programs for people with chronic conditions.
"Care-management practices for areas outside of the inpatient setting are still maturing, especially for home management of chronic diseases," the report noted. "Most provider organizations' population health strategies target diseases like COPD, congestive heart failure, diabetes, heart disease and hypertension; few are tracking behavioral health, sickle cell anemia, or end-stage renal disease. Additionally, few organizations currently allow patients at home to do things like manually submit self-test results or report their medication management compliance via email. There is still work to be done in developing capabilities in these areas, though progress has been made with things like EHR integration and real-time care management."