Connected Care Platforms Help High-Risk Patients Avoid the ER
Healthcare providers plagued by costly readmissions are turning to telehealth, remote patient care and even local paramedics to connect with patients at home.
- Faced with overcrowded ERs that strain resources and budgets, healthcare providers are turning to connected care solutions to redirect – and sometimes prevent – that last-minute visit or ambulance call.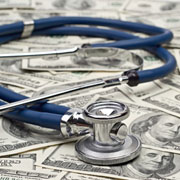 In Albuquerque, N.M., a local EMS provider is partnering with Blue Cross Blue Shield of New Mexico to connect with high-risk Medicaid patients in their homes. The patients, ranging from people with multiple or severe chronic conditions to those who've just been released from the hospital, get health checkups and wellness advice from paramedics during the scheduled visits, with the hope that they will prevent rehospitalizations or 911 calls for preventable health issues.
It's a costly topic. A 2015 study by the Center for Health Information and Analysis pegged the Medicare bill for preventable hospital readmissions at $17 billion a year.
"It's partnerships like this that will improve healthcare in the community well into the future," Dr. Duane Ross, medical director for BCBSNM's government programs, tells the Albuquerque Journal.
The Community Paramedicine pilot program, launched in January with the Albuquerque Ambulance Service, focuses on Blue Cross Centennial Care members, high-risk patients identified by the healthcare provider and the insurer's care coordination staff as most likely to experience post-discharge issues or require emergency medical care.
"It's a (bad) habit built up over time" by many Medicaid recipients, Ross told the local news service.
Other health systems use remote monitoring platforms or partner with home health programs to identify and reach out to high-risk populations.
"The telemedicine in the home is cheaper than the consequent emergency room visits and hospitalizations that occur if chronic conditions are ignored," WinterGreen Research officials said in a 2015 report on the telemedicine market. "There is a certain inevitability related to chronic disease condition care delivery. People that take care of themselves tend to stay healthy."
In 2014, San Diego's Sharp HealthCare used a telehealth platform, which included personal coaching and care coordination, to cut its 30-day unplanned return rate among a select group of CHF patients from 20.7 percent to 10 percent. The project focused on underserved populations. Sharp sees some $80 million worth of readmissions each year, with CHF patients running up a $9.5 million bill.
"While services may exist for these patients, they have challenges in navigating the complexities of the health care system while dealing with their medical conditions," Sharp officials reported in their case study for the Center for Technology and Aging. "Additionally, while these patients receive thorough education while they are in the hospital on their disease and how to access community resources, they are often overloaded with excessive amounts of information when they are least likely to comprehend it."
At Penn Medicine, meanwhile, at-risk CHF patients were issued a PatientConnect Tablet upon their release from the hospital. A study of 130 patients involved in the program in 2015 saw a 53 percent reduction in readmissions in eight months.
"Since launching with HRS (Health Recovery Solutions, an mHealth provider), we've had our best CHF readmission performance to date," Anne Norris, MD, and CMO of Penn Care at Home, said in a press release. "In six of the last 12 months we have had zero 30-day readmissions, and our overall rate stands at 3.8 percent. There's a secret sauce here, using this tool to engage patients in their own self-care."