Ga. Payer Pushes Telehealth to Replace Unnecessary ER Visits
Blue Cross Blue Shield of Georgia will soon end reimbursements for non-urgent ER visits, and is asking members to instead use the insurer's telehealth platform or visit the nearest urgent care or retail clinic.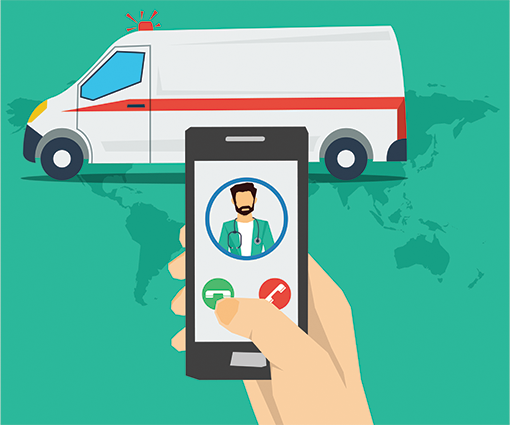 Source: ThinkStock
- A Georgia insurer is taking strong steps to promote telehealth as a replacement for most emergency room visits.
Starting in July, Blue Cross Blue Shield of Georgia will stop reimbursing for ER visits deemed to be unnecessary. The payer is recommending that its members use BCBSGa's LiveHealth Online telehealth service, or visit the nearest urgent care or retail health clinic.
"The cost of care's been going up so much faster than people's earnings," BCBSGa President Jeff Fusile told Atlanta's WABE public radio station. "We have got to find a better way to do some of this stuff, taking some of that unnecessary spending out of the system."
The insurer is taking steps to ensure that its members know when they should visit an ER. According to a May 19 letter to members, the restriction won't be applied to children under 13, Sunday or holiday visits or instances in which the member is more than 15 miles from the nearest urgent care clinic.
As for defining an emergency, the letter states:
READ MORE: Potential for Healthcare Kiosks in Improving Care Delivery
"'Emergency' or 'emergency medical condition' means a medical or behavioral health condition of recent onset and sufficient severity, including but not limited to, severe pain, that would lead a prudent layperson, possessing an average knowledge of medicine and health, to believe that his or her condition, sickness or injury is of such a nature that not getting immediate medical care could result in:
placing the patient's health or the health of another person in serious danger or, for a pregnant woman, placing the woman's health or the health of her unborn child in serious danger;
serious impairment to bodily functions; or
serious dysfunction of any bodily organ or part.
Such conditions include but are not limited to, chest pain, stroke, poisoning, serious breathing problems, unconsciousness, severe burns or cuts, uncontrolled bleeding, or seizures and such other acute conditions as may be determined to be emergencies by us."
The insurer said each ER visit would be evaluated after the fact to determine if it qualifies for reimbursement.
"This is not to discourage somebody with an emergency condition who needs to go to an ER to go there," a BCBSGa spokeswoman, Debbie Diamond, told the Atlanta Journal Constitution. "Healthcare is becoming more and more expensive. It's a way to make sure that people are getting quality and affordable care."
The policy touches on a popular argument for telehealth – that access to online care can eliminate the roughly 75 percent of ER visits that are unnecessary, thereby reducing hospital congestion, cutting wasteful spending and improving outcomes by speeding up diagnosis and treatment.
READ MORE: Telehealth Helps Rural Hospitals Keep Their ER Patients (And Revenues)
Healthcare providers have approached the problem in the past from several angles.
Direct-to-consumer telehealth providers like Teladoc, American Well, MDLIve and Doctor on Demand market their platforms as a quick and easy alternative to the much-more-expensive ER visit. The service is attractive to companies and health plans looking to keep healthcare costs down, as well as the busy executive or harried parent looking to avoid a trip to the hospital.
Health systems also see value in the platform. Aside from reducing traffic in crowded ERs (and reducing staffing and supply costs) and ensuring that emergency cases get immediate care, the service gives them an edge against competing retail and urgent care clinics and helps promote patient engagement and satisfaction.
Some health systems, realizing they might not be able to stop that hurried trip to the ER for what seems like an emergency at the time, are using kiosks and video conferencing platforms inside the ER to funnel non-urgent cases to appropriate care providers.
Among the more interesting examples is a Florida-based company called TeleMedCo., which is working on telehealth platform that would combine real-time communications with IBM's Watson Health tools to screen ER patients and direct them to the proper care pathway.
READ MORE: Connected Care Platforms Help High-Risk Patients Avoid the ER
"Having Watson welcome and interview patients who come to an emergency facility will free up time for doctors and other healthcare personnel to see more patients and to focus on those requiring more urgent attention," the company said in a press release. "Because of Watson's ability to read medical journals and research documents in real time and its vast pharmaceutical database, Watson will speed treatment and help to eliminate errors, thereby de-stressing the process. TeleMedCo solutions, powered by IBM Watson, will also update patient records, code and process insurance claims and monitor patients for aftercare."
In a pilot program conducted last year in Kentucky, ER visitors at Fort Campbell's Blanchfield Army Community Hospital were screened upon entering the hospital, and those with non-emergency issues were led to an area where they could have a video consult with primary care doctors at Eisenhower Army Medical Center in Augusta, Ga., some 445 miles away.
"If you or your family member is sick, having access to a doctor right away is a priority. This is why some patients present to the ED with low acuity," Master Sgt. Jason Alexander, clinical operations NCO for the Army's Regional Health Command-Atlantic (Provisional), told the Defense Video & Imagery Distribution System. "This pilot aims to identify patients who fit this category and redirect them to a primary care doctor at Eisenhower. Not only will the care provided be focused to their need but it will also help reduce their wait time and allow ED professionals to take care of more urgent cases."
Back in Georgia, not everyone is convinced that the BCBSGa policy is appropriate.
Matthew Keadey, MD, says consumers with real emergencies might steer clear of the ER for fear they'll get billed for the visit.
"Patients are not trained to recognize emergencies," he told the Atlanta Journal Constitution. "What it really is is a barrier to emergency care. Patients will die because they're going to think twice about going to the emergency department. One person goes and it turns out they just had reflux or a stomach problem; the next person has the symptoms and it's a heart attack."
Keadey also said the policy would leave hospitals to foot the cost of unreimbursed ER visits or place more pressure on the patiuents.
"To me it's one more way that we're seeing the insurance company trying to take their financial responsibility and place it back on the patient," he added.