Georgia's First Mobile Telestroke Unit is Ready to Roll in Atlanta
The telestroke unit, a mobile health program launched by the Grady Health Network and Emory University School of Medicine, aims to use telemedicine to bring life-saving stroke treatment to wherever the patient is located.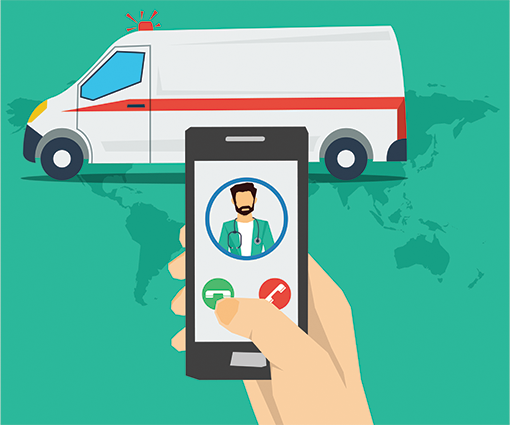 Source: ThinkStock
- Georgia is adding a new mobile health resource to its telemedicine service with the state's first mobile stroke unit.
The mobile stroke treatment unit, a specially equipped ambulance designed to bring telestroke care directly to the patient, is the result of a partnership between the Atlanta-based Grady Health Network and Emory University School of Medicine and the American Heart Association/American Stroke Association. It's the attest addition to the Marcus Stroke Network, a newly launched effort by the Marcus Foundation to create "a coordinated and collaborative effort to help reduce stroke disability and death rates in the Southeastern United States."
"Using a sophisticated telemedicine platform, our goal is to extend the vast experience and proven expertise of our stroke specialists to participating network hospitals, giving each and every stroke patient in the areas serviced by our network partners the best chance of survival and living an independent quality of life," Michael Frankel, MD, a professor and director of vascular neurology at Emory, chief of neurology and director of Grady's Marcus Stroke and Neuroscience Center and says the Marcus Stroke Network director, said in a press release.
Mobile stroke units have been popping up in cities across the country, as health systems look to improve diagnosis and treatment for stroke victims by connecting them with medical care as soon as possible. Armed with telemedicine platforms – and in some cases enhanced with AI technology – the vehicles are dispatched top wherever the stroke victim is located.
They're also part of a larger national trend of delivering telehealth services through specially designed vehicles – vans, ambulance, buses and RVs – aimed at specific populations (such as the homeless or migrant workers) or areas where access to care is limited. In some cases, ambulance services and health systems are using these mobile health units to connect with frequent 911 callers or disabled or elderly people for whom a preventative care visit could help prevent a future trip to the hospital.
In this case, the Atlanta-based mobile telestroke unit will be available Monday through Saturday and manned by an emergency medicine nurse, paramedic, advanced EMT and CT technologist. Once dispatched, they'll conduct a diagnostic scan, transmitting the image back to Grady's Marcus Stroke and Neuroscience Center, where an Emory University School of Medicine vascular neurologist will make a diagnosis.
If the neurologist concludes that the patient is having a stroke, he or she can prescribe treatment with a tissue plasminogen activator (tPA) like the clot-dissolving drug alteplase, even as the patient is in transport to a hospital.
Research has found that mHealth can improve care for those suffering a stroke. A 2015 study undertaken by the Cleveland Clinic and the Cleveland Emergency Medical Service and reported in JAMA Neurology found that a mobile telestroke service could cut at least five minutes off the time needed to give a patient a CT scan, while it could shave 26 minutes off the time taken to administer tPA.
"Our data demonstrated that the evaluation and treatment were not only comparable to ED times but also shorter in terms of CT, laboratory processing and thrombolytic administration," the JAMA article stated. "Intravenous thrombolysis was successfully administered to 48.5 percent (16 of 33) of patients with suspected stroke and was delivered quickly in the [mobile telestroke unit]. The shortest time from the door to IV-tPA administration was 11 minutes, which highlights the potential application of [mobile telestroke] in delivering early thrombolysis to patients with stroke thereby reducing disability."
That difference, experts say, could mean the difference between life and death.
"I think this will be the standard of care as time goes by. It's a phenomenal technology to have," said Harish Shownkeen, MD, medical director for stroke and neurovascular medicine at Chicago's Northwest Medicine Central DuPage Hospital, which launched its first telestroke units in early 2017. "The treatment hasn't changed; it's the initiating of the treatment that has made the quantum leap."