Has Missouri Found a New Way to Boost Telehealth in Schools?
New telehealth legislation enables school districts to bill Medicaid for some special needs services, such as speech and language therapy and mental health counseling.
- Missouri schools struggling to pay for special needs programs and teachers may get relief from an unexpected source: The state's new telehealth law.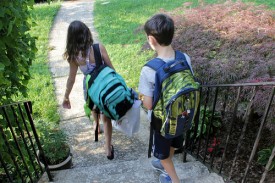 The legislation, approved in June and taking effect this month, lays out the groundwork for telehealth services across the state, including a video visit program for the state's schools. It also enables school districts to bill the state's Medicaid program, MO HealthNet, for the service.
That same law spells out that healthcare providers specializing in speech and physical therapy and mental health services can be reimbursed for their work under the Medicaid program. As a result, school districts could take advantage of the telehealth platform to make those services available to their special needs students.
This could be "the greatest thing in the world" for school districts struggling to pay for the federally mandated services and find qualified specialists, says Phyllis Wolfram, president-elect for the Council of Administrators of Special Education and executive director of special programs for the Springfield, Missouri Public School District.
"There is a shortage of speech language pathologists across the nation, and Missouri is no exception to that rule," she told EdScoop. "When we have a difficult time finding speech language therapists, we will be able to use this service as well as continue to bill Medicaid."
Wolfram says school districts often face challenges finding and hiring specialists to help special needs students, especially in rural areas where healthcare workers are in short supply and the pay scale isn't that good.
"You can't get blood out of a turnip," she said. "They're few and far between in the first place in some remote areas. School districts can post and post and post for positions, but if there's no one applying and you can't go get them, it's just not there."
By piggybacking onto a telehealth platform, schools can connect their special needs students and staff with specialists no matter where they're located, at a fraction of the cost. They can also expand the platform to offer services they might not normally be able to afford or provide.
"You can do [occupational therapy, physical therapy], speech therapy and have all those services provided while consulting with a special ed teacher on site, as well as maybe providing those direct services and utilizing those care professionals to do that as well," Wolfram said.
School districts around the country are testing the waters with telehealth, and looking at different ways to make the platform sustainable and scalable. Some see the service as a health plan benefit for teachers and staff, while others see a program that can appeal to parents (and their insurers) who would otherwise spend hundreds of dollars in doctor's bills and time off from work.
Wolfram expects that the platform's use for special needs programs will be an entry point for school districts that have been reluctant to embrace telehealth. The same may hold true for other states and school districts looking to make the best use of the technology.
Dig Deeper:
L.A. Schools to Test a New Telehealth Model