Is HHS Missing the Point on mHealth?
A diabetes coaching program run by the YMCA earns kudos from the feds for its clinical outcomes. But an mHealth platform would make it much more successful.
- Federal officials are heaping praise on a preventive service program for type 2 diabetics – yet they're missing a key aspect to this program that could make it even more effective.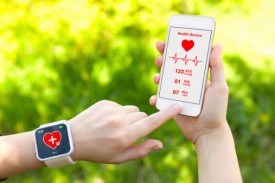 Health and Human Services Secretary Sylvia M. Burwell announced Wednesday that the Diabetes Prevention Program, run by the YMCA and developed through the Centers for Medicare & Medicaid Services' Innovation Center, has become eligible for expansion into the Medicare program.
"This program has been shown to reduce healthcare costs and help prevent diabetes, and is one that Medicare, employers and private insurers can use to help 86 million Americans live healthier," Burwell said in a press release. "The Affordable Care Act gave Medicare the tools to support this groundbreaking effort and to expand this program more broadly. Today's announcement is a milestone for prevention and America's health."
Launched in 2013 with an $11.8 million CMS Health Care Innovation Award to the National Council of Young Men's Christian Associations of the United States of America (Y-USA), the program invited eligible Medicare beneficiaries at high risk of developing type 2 diabetes to attend weekly meeting with a lifestyle coach, who trained the participants on diet, exercise and healthy lifestyle. Those weekly sessions eventually became monthly sessions.
According to federal officials, about 6,000 people participated in the 15-month program, with 25 percent attending more than 17 sessions, 37.5 percent attending nine to 16 sessions, 37 percent attending less than nine sessions and more than 80 percent attending at least four sessions. Those attending at least four sessions lost an average of 4.73 percent of body weight, while those attending at least nine sessions lost an average of 5.17 percent of body weight.
HHS estimated that the program saved $2,650 in Medicaid costs per enrollee.
Imagine how much better that program would be if enrollees could meet with their coaches online, share health data with them and receive personalized messages and lifestyle hints at any time, rather than once a week or month.
Paul Spitalnic, CMS' Chief Actuary, who certified the program's results, said the participants "have achieved success with losing weight and reducing the incidence of diabetes," and concluded the program "has resulted in reductions in medical spending in the near term." He then called for more studies.
Might they include mHealth tools and platforms? Several healthcare providers are already using messaging apps and portals to keep in touch with diabetic patients in between healthcare visits. Some are gathering data from smart devices, including blood glucose monitors and pumps – even wearables like Fitbits – to better create a care management plan. These platforms can go far beyond that weekly or monthly session with a lifestyle coach.
In short, the Y-USA's Diabetes Prevention program is a good first step, and HHS' acknowledgement of its success gives innovative care management programs the support they'll need to gain acceptance in the healthcare ecosystem. But for that next big step, let's look to mHealth.