HIMSS15 mHealth Survey Shows Struggle, Commitment to Mobile
- Healthcare organizations are eager to embrace mHealth as an effective and cost-saving patient engagement strategy, finds the 2015 HIMSS Mobile Technology Survey, but many providers continue to struggle with implementing technologies that catch the interest of smartphone-wielding patients. While nearly 90 percent of the 238 organizations participating in the survey are currently using mHealth tools for patient engagement, finding the right mix of attractive features to help consumers effectively manage their health has been a difficult proposition.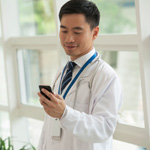 Despite the high percentage of healthcare organizations investing in mHealth, only 51 percent of participants said that they were able to leverage mobile and telehealth technologies to impact patient care in a measurable way. Remote care technologies are most often being used for ICU monitoring, teleradiology, and care coordination. Even though three-quarters of participants have patient portals that enable the use of mHealth apps, just 36 percent believe these capabilities are highly effective for patient engagement.
The lackluster impact of mHealth on engagement isn't due to a lack of planning. Fifty-seven percent of organizations have an mHealth policy in place, and an additional third are planning to develop one in the near future. Nearly half believe that mHealth policies are a top priority in their organization, yet just 18 percent believe their mobile implementation strategies are "highly mature."
However, upcoming regulations may help providers develop richer functionalities and greater levels of experience with mHealth as patient engagement becomes more central to value-based reimbursement and other reforms. Over half of respondents believe that the EHR Incentive Programs have had a strong impact on their organizations' mHealth strategies, driving innovation and development as providers realize the importance of patient engagement and care coordination for their larger financial plans.
"mHealth continues to evolve as a tool to drive healthcare efficiencies," said David Collins, senior director of HIMSS mHealth Community. "The proposed Meaningful Use Stage 3 rule realizes this with the concept of APIs and patient generated health data, and this year's survey showed that the wide spread availability of mobile technology has had a positive impact on the coordination of patient care."
While healthcare providers continue to struggle with mHealth and patient engagement, they are actively and effectively integrating the use of mobile devices into their clinician-facing care coordination plans. More than two-thirds of respondents said that at least some EHR data is available on mobile devices for the coordination of care. Eight percent can transmit all data captured by mobile devices into their EHR systems. One third of organizations have integrated their EHRs and other devices in a manner that allows patient alerts to be sent directly into the EHR, streamlining one of the most cumbersome health IT processes.
Patient-facing mHealth apps are also an area ripe for innovation and development, the survey found. Close to one third of participants said that they offer organization-specific apps for their patients, while another 30 percent are currently developing those capabilities. Ten percent of organizations currently have their own app marketplaces to make it easier for patients to download engagement tools targeted to their needs. These centralized locations also allow apps to be distributed internally.
Providers must continue to optimize their mHealth and mobile device strategies in order to achieve the high levels of efficiency that these technologies promise, the survey concludes. As technology mandates and payment reforms come together to promote the need for patient engagement, healthcare organizations will no doubt continue to refine their plans and expand their capabilities to leverage mHealth for the coordination of patient care.