How Attitudes towards mHealth Can Drive Patient Engagement
- The smartphone may have secured its place as the number one can't-do-without gadget for the majority of patients – and physicians – in everyday life, but it is still seen as an intrusion in the consult room. Plastic signs on the walls of most offices still warn patients to turn off their iPhones while their nurses check their blood pressure and doctors scribble prescriptions, yet healthcare providers are simultaneously trying to entice patients to use online portals, after-hours nurse help lines, and wellness programs that might forestall chronic disease.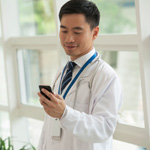 As patient engagement and the revenue cycle become ever more closely aligned, it might be time to try a different tactic: ask patients to take out their cell phones, open up their mHealth apps, share useful data from their wearable devices, sign up for telehealth services, and use their smartphones for something other than snapping selfies in the waiting room.
"We really need to consider the patient as a disruptive force in improving health care," said former National Coordinator for Health IT Dr. Farzad Mostashari. "It starts with people being able to get access to their own health information so they can be empowered by the data. But the next step is to ask, 'now that I can get it, why would I get it, and what can I do with it? How do I organize it, how do I understand it, how do I share it?'"
The healthcare industry continues to wrestle with that question. For many healthcare providers, the first step to successfully leveraging mHealth and telehealth for patient engagement is to ensure a positive attitude on both sides of the equation. A physician's outlook on new technologies can rub off easily on her patients, and negative perceptions of how difficult it is to adapt to a workflow that embraces mobile health technologies could turn a patient away from a valuable self-management tool.
"Getting the buy in from physicians is going to be essential, because consumers are going to push for more technology that it makes their life easier," Nicolas Boyon, Senior Vice President at Ipsos Public Affairs, said to HealthITAnalytics. "They want more control over their healthcare. A lot of it is probably a matter of increasing convenience, but there is also a cost control aspect to it. But at the same time, we see that patients really take their cues from their doctors. If physicians have mixed feelings towards technologies that encourage patient engagement, this is passed on to consumers."
READ MORE: mHealth Study Proves Remote Monitoring Beats In-Person Visits
A recent study by the National Partnership for Women and Families found that patients were more likely to rate their physicians' EHR use as a positive development when the provider was happier with their technology. They also think online tools, like patient portals, can help them reach their own personal health goals. The desire to engage is there, but the tools available on the market aren't always up to the task.
mHealth apps are unregulated and can be close to useless, providing little value to patients or providers. From unusable interfaces to questionable user agreements and poorly exported data, a bad mHealth app might be worse than no patient engagement at all. The frustration for providers when faced with sleep pattern data illustrated by rows smiley faces may be palpable, but it also providers a good opportunity to guide patients towards resources that can more immediately impact their health, such as trusted educational materials from professional societies or chronic disease management programs that send text message reminders.
It is important for providers to have the conversation about how to properly engage, indicates a study from Xerox, in which a third of patients had no idea that they could access a patient portal, while 31% said their physicians had never mentioned the feature to them.
"Physicians, especially the older ones and the specialists, have to move into a whole new world, and they are concerned that it's making their life a lot more complicated than it used to be," Boyon said, noting a general sense of anxiety among many providers who are unsure of the true value of mHealth to their patient population. But that attitude may be short lived if patients have their way, he added.
"Patients now have an expectation for technology to be used by primary healthcare professionals. They want their physicians to use mobile technologies to interact with them. We see that the most common usage of technology right now is appointment scheduling and access to medical records, but it's far from universal. What we expect is that over the next few years, this is going to become standard. So there will probably be a push on the part of patients for physicians to deliver on that."