Laws Affect Adoption of Telemedicine Across State Borders
- The implementation and adoption of telemedicine varies across state borders due to differing legislation and coverage among providers. According to a report from the American Hospital Association, there are 10 state medical boards that issue specialized certificates or licenses for physicians to practice medicine across state borders through telehealth technology.
Sometimes certain conditions must be met for a doctor to qualify for this license. The 10 states that provide these licenses and encourage adoption of telemedicine include Alabama, Louisiana, Montana, Nevada, New Mexico, Ohio, Oklahoma, Oregon, Tennessee, and Texas.
There is an exception to this rule – an out-of-state physician licensed in a separate state is allowed to offer consultations to another physician who is licensed in the original state. Nevada, Oklahoma, and Oregon all have this consultation exception as well as the telehealth licensure.
Massachusetts, New York, Florida, and California are a few of the states that have a consultation exception without any restrictions on frequency. Texas, Oklahoma, and New Mexico, however, allow these consultations only if they are offered on an infrequent basis. Currently, 27 states allow physician-patient relationships to be developed via telehealth tools, which includes Florida, Georgia, Texas, Nevada, Oklahoma, New Mexico, Tennessee, and North Carolina.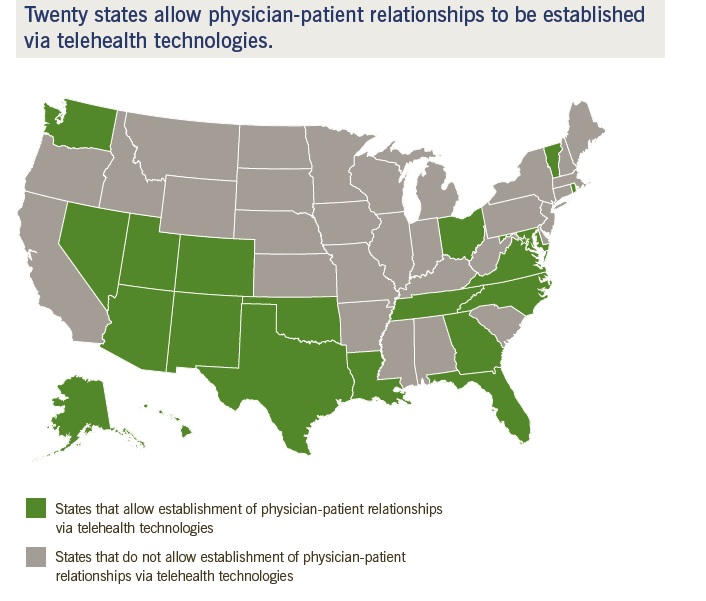 Payment and coverage also affect the widespread adoption of telemedicine, according to the report State Telemedicine Gaps Analysis Coverage & Reimbursement from the American Telemedicine Association. There are various insurance requirements that may prohibit some providers from participating in telehealth solutions.
The report shows that there are only five states that have a truly supportive policy landscape for implementing telehealth technology, which includes Virginia, Tennessee, New Mexico, Maine, and New Hampshire as well as the Washington D.C. district. Connecticut and Rhode Island, however, had the lowest composite score, which shows these states have a high amount of barriers and little advancement toward the adoption of telemedicine.
Currently, there are also 24 states with telemedicine parity laws for private insurance with 16 of these having no provider or technology obstacles and enabling statewide health coverage. Some types of telemedicine coverage is offered through 48 state Medicaid programs, the report reveals. However, Connecticut, Hawaii, Idaho, Rhode Island, and West Virginia failed in this ranking because these states do not have sufficient, comprehensive coverage for telehealth services.
Additionally, 24 states have reimbursement processes for telemedicine through state employee health plans. Currently, there is a movement across the country to enable statewide coverage of telemedicine through Medicaid programs instead of focusing solely on the rural areas.
The state with the highest ranking for the home health benefit of telehealth services was Alaska. In addition, 27 states require patient-informed consent during telehealth encounters.
Greater EHR interoperability and successful health data exchange will also affect the future of telemedicine development across state borders. Bob Robke, Vice President of Interoperability at Cerner Corporation, spoke with EHRIntelligence.com about how EHR trends are impacting design and adoption of telemedicine.
"Connecting different information sources are key to successful telehealth and population health management strategies," Robke explained. "Healthcare organizations need to access a patient's full health history regardless of where that care was provided or what information system houses that information."