Letter: Telemedicine's Value to Medicare Has Been Proven
A group of health systems and doctors urges the Congressional Budget Office and MedPAC to look at how telemedicine is used elsewhere, such as the VA and Medicaid.
- A who's who of telemedicine advocates is urging those in charge of the federal purse strings to be more creative in assessing the technology's benefits on Medicare.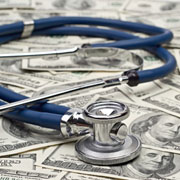 In a brief letter to the Congressional Budget Office and the Medicare Payment Advisory Commission, the group of health systems and healthcare leaders urges the two to "look to evidence of telemedicine's effectiveness from the commercial sector, the Department of Veterans Affairs (VA), Medicaid, and other programs when producing future cost estimates and analyses of telemedicine utilization in the Medicare program."
The plea follows recent comments from federal regulators that there isn't enough hard evidence that telemedicine can cut costs and improve clinical outcomes.
Last December, a Politico report charged that the CBO, created 40 years ago to put a price tag on proposed legislation, has historically overestimated the cost of healthcare-related bills, leading to concerns that several high-profile telemedicine bills now under review would be unfairly evaluated. And just a few months ago, speakers at a MedPAC meeting questioned whether telemedicine was driving up the cost of healthcare by promoting expensive technology and encouraging unnecessary medical evaluations.
According to the letter writers, there's plenty of evidence that telemedicine is working – one just has to know where to look for it.
"We recognize the difficulty of finding sufficient Medicare data on telemedicine given that it is virtually unused in the Medicare program," the letter stated. "However, alternative data sources can and should be used to inform and produce an analysis of providing Medicare beneficiaries access to telemedicine, including telehealth and remote patient monitoring."
"The lack of Medicare data is understandable given the outdated statutory restrictions on telemedicine: since federal law prevents many providers from being paid when they use telemedicine to serve Medicare beneficiaries, obviously, little data is available. We have been encouraged by the Centers for Medicare & Medicaid Services' increasing - but limited - allowance of telemedicine as part of new demonstration projects, but we are concerned that it will be too difficult to isolate telemedicine's impact, as it is one of many variables measured," the letter said.
"There is, however, substantial experience utilizing telemedicine outside Medicare. Combined, we have authored many studies showing its quality and cost-effectiveness in fee-for-service as well as managed care environments."
The letter was sent on May 23 to CBO Director Keith Hall and MedPAC Executive Director Mark Miller. It was signed by, among others, Ascension Health, CHRISTUS Health, the Scripps Translational Science Institute, UPMC's Telehealth Program, the University of Mississippi Medical Center for Telehealth, the University of Virginia Medical Center, Stanford Health Care, Joseph Kvedar of Partners Health Care's Center for Connected Health, former American Telemedicine Association President Dale Alverson, of the University of New Mexico Hospital and Health Sciences Center, and John C. Lewin, MD, of the National Coalition on Health Care.
Dig Deeper:
Has Telemedicine Proven its Value?
Will the CBO Give Telemedicine a Fair Shake?