Long Island Hospital to Roll Out Mobile Telestroke Units Next Spring
Stony Brook University Hospital will place 2 mobile health units equipped with telemedicine technology at exits along the Long Island Expressway to help first responders improve care for stroke patients.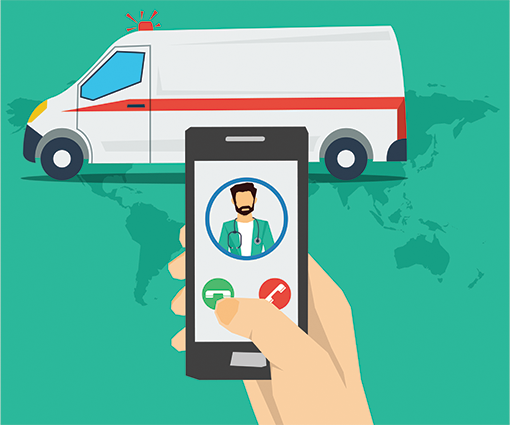 Source: ThinkStock
- Stony Brook University Hospital is preparing to launch two mobile telestroke units next spring on New York's Long Island.
The hospital has set aside $2.2 million to equip the mobile health units with telemedicine technology, enabling first responders to better treat potential stroke victims at the scene and connect in real-time through a virtual care platform with neurologists at the hospital.
"These are mobile units that are equipped with a CT scanner that will allow us to determine if a patient has a blocked vessel or bleeding in the brain," Dr. David Fiorella, a neurointerventionist at Stony Brook and director of the cerebrovascular program at the university's Cerebrovascular & Comprehensive Stroke Center, told Newsday.
With stroke victims needing accurate assessment and treatment within hours – sometimes even minutes – to reduce the chances of permanent brain damage or death, healthcare providers across the country have launched connected care platforms to connect rural and remote providers treating stroke victims with neurologists. These specialists use video technology and mHealth devices to diagnose patients and, if necessary, prescribe TPA (tissue plasminogen activator).
Many telestroke programs operates on a hub-and-spoke telemedicine network, with specialists at a large hospital – the hub – offering their services to smaller hospitals and healthcare providers – the spokes – in distant locations. Without that connection, those smaller providers would spend valuable time transporting stroke patients to the larger hospital for emergency care.
READ MORE: For Small Hospitals, Telemedicine Can Be a Game-Changer in the ED
Just last year, Kaiser Permanente published the results of a study in which the California-based health system proved that a telestroke network enables care providers to treat stroke victims faster than in-person care.
"Processes that used to happen sequentially during a stroke alert, one after another, are now happening at the same time, allowing us to quickly, safely and confidently provide evaluation and treatment with intravenous r-tPA to stroke patients who can benefit," Jeffrey Klingman, MD, chairman of the Chiefs of Neurology for Kaiser Permanente Northern California and a co-author of the study, said in a press release issued by Kaiser Permanente.
Healthcare providers are now turning to mobile health to improve that process even more. They've equipped ambulances and other vehicles with the telemedicine technology necessary to connect first responders to stroke specialists, so that treatment can began as soon as someone reaches the patient.
This past June, Atlanta's Grady Health Network and Emory University School of Medicine joined that growing number of health systems with the launch of Georgia's first mobile telestroke unit.
"Using a sophisticated telemedicine platform, our goal is to extend the vast experience and proven expertise of our stroke specialists to participating network hospitals, giving each and every stroke patient in the areas serviced by our network partners the best chance of survival and living an independent quality of life," Michael Frankel, MD, a professor and director of vascular neurology at Emory, chief of neurology and director of Grady's Marcus Stroke and Neuroscience Center and says the Marcus Stroke Network director, said in a press release.
READ MORE: Ambulance Company Eyes mHealth Reliability With FirstNet Platform
Now New York is set to see its first telestroke vehicles.
"We will be able to give patients the same medication at their homes that they would receive in an emergency department," Fiorella said of the new program, which will place the two vehicles at exists along the Long Island Expressway beginning in March.
"Categorically, this is the best way to handle patients with acute stroke. There is no better way to do it. It achieves all the major goals in managing patients having a stroke," Dr. Peter Rasmussen, medical director of distance health for the Cleveland Clinic, told Newsday. Touted as one of the first in the nation to use a mobile telestroke unit, the Ohio-based health system has treated some 1,600 patients since putting the vehicle on the road in 2014.
"Time really is of the essence," noted James Conners, MD, section head of cerebrovascular disease at Rush University Medical Center, one of two Chicago-based health systems to launch mobile telestroke units in 2017. "For every minute that goes by of a blockage in the brain, you lose about 2 million brain cells."
"I think this will be the standard of care as time goes by. It's a phenomenal technology to have," added Harish Shownkeen, MD, medical director for stroke and neurovascular medicine at Northwest Medicine Central DuPage Hospital. "The treatment hasn't changed; it's the initiating of the treatment that has made the quantum leap."