mHealth and CES: Shining a Light on Patient Engagement and Digital Health
With CES 2017 just a few weeks away, mHealth experts say it's time for healthcare providers to take digital health and patient engagement seriously.
- With patient engagement still a struggle, healthcare providers are slowly starting to take the consumer seriously in their mHealth strategies.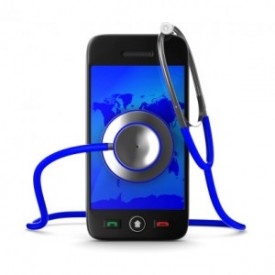 They're partnering with Fitbit, Garmin, Apple, Nike, Under Armour and other companies in projects that blend fashion and fitness with healthcare. And they're starting to show up at CES, the massive Consumer Electronics Association show held each January in Las Vegas.
"People are using these consumer-centric devices in caregiving and healthcare delivery," says Jill Gilbert, who produces the two-day Digital Health Summit at CES. "Doctors are recommending them because their patients are using them. They see the value."
Gilbert, whose 2017 summit agenda includes executives from Philips, UnitedHealth Group, Harvard Medical School, the Cedars-Sinai Health System, the Mount Sinai Health System, Qualcomm Life, Partners HealthCare, Teladoc and Anthem, says the healthcare industry has been slowly building up its presence at CES over the past few years – at about the same rate as the Digital Health Summit and the exhibition hall space devoted to health and fitness devices have grown.
She says she saw several health system executives wandering through the cavernous halls of the Las Vegas and Sands convention centers last year.
READ MORE: mHealth Games Offer a 'Fun' Way to Boost Patient Engagement
"I'm actually surprised at how much interest there has been in the healthcare industry," she says. "But then again, we're starting to see healthcare providers get into the business side of (mHealth). They're developing their own apps and becoming their own entrepreneurs, and they want to see how that side of the business is run."
They also want to see what makes the Fitbits and Garmins so popular.
"It's not just the technology," she says. "It's the pizzazz, the tantalizing and sexy (products) that are really going to appeal to the public. They want to know what works and what doesn't."
Jan Kimpen, MD, PhD, chief medical officer for Philips, says the healthcare industry's race to embrace mobile and digital healthcare gives CES value.
"CES is important for the healthcare community because the lines between consumer and clinical worlds are blurring and in the near future, the information that health professionals will need to make care decisions, won't just be coming from inside the hospital walls, but from data shared by their personal connected health devices," he says.
READ MORE: New Study Gives mHealth High Marks in Children's Health
"Moreover, that data is going to need to be stored, cured, analyzed, processed and delivered to both doctors and patients in a way that they can understand it and act upon it," Kimpen adds. "So consumers who belong to at-risk groups can take necessary preventive actions and receive online coaching, as well as allowing patients to partner with their doctors and get better care. All of which will take insights, best practices and standards to be set from organizations that live in both the clinical and consumer worlds. Since more and more health systems are engaging in population health management, digital connected technologies that can bridge consumer and clinical data, and ultimately improve lives."
Gilbert readily admits that CES is not like the Health Information and Management Systems Society's (HIMSS) annual conference and exhibition. But where conferences like those put on by HIMSS and the American Telemedicine Association focus on healthcare, "this brings the technology to life."
"If your goal is insanely accurate data, this isn't for you," she says. "But if you're looking for the whole picture, where a blood test or a (vital sign) isn't just a piece of data but a part of everything you do in your life, this is important to your decision-making."
Topics on the agenda at CES 2017 include using gamification in diabetes management, digital technology and obesity, the opioid epidemic, precision medicine, how Amazon's Echo can be used for healthcare, enriching the doctor-patient discussion, smart home technology, wearables and technology that bridges the gap between the home and the hospital.
There will also a session on mHealth technology used to help measure sleep. And ResMed and TV health personality Dr. Mehmet Oz are expected to release the results of a national study on sleep habits and sleep fitness – a topic familiar to mHealth experts attending this year's HIMSS16 conference, when IBM's Watson Health and the American Sleep Apnea Association launched a study on Apple's ResearchKit platform.
READ MORE: Providers Like Virtual Care, But Sustainability Issues Linger
Gilbert sees a lot of "cross-pollenization" at CES nowadays, from smart homes to healthcare-enhanced video games to smart cars that can help a driver do much more than go from one place to another.
"Healthcare is beginning to leverage relationships with consumer devices," she says. "People are starting to take that seriously. … We're not cheapening that just because we're at CES."
Dig Deeper:
Will the IoT Bring a Patient Engagement, Interoperability Revolution?