mHealth Devices Get A.I. Support for Mobile Telestroke Units
The 'A.I. to the Curbside' program, launched by Samsung NeuroLogica and MedyMatch, will equip first responders and other clinicians with mHealth devices integrated with machine learning capabilities for clinical decision support.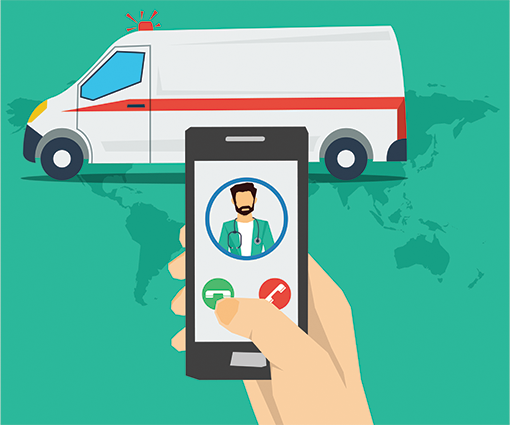 Source: ThinkStock
- mHealth devices used in acute care will soon be integrated with an artificial intelligence platform, giving first responders and other clinicians real-time clinical decision support tools during emergencies.
The partnership announced between Samsung NeuroLogica, the healthcare arm of the tech giant, and MedyMatch Technology is initially designed to help mobile stroke units (MSUs), specially designed vans or ambulances that are dispatched after 911 calls for a possible stroke. MedyMatch's A.I. platform will be integrated with Samsung's CereTom CT (computed tomography) scanner, giving clinicians guidance during a mobile CT scan to determine whether the patient is experiencing a brain hemorrhage or blood clot.
"Technology that can assist the physicians in recognizing brain bleeds more quickly will lead to faster decision-making for the patient and better outcomes," Peter Rasmussen, MD, medical director of the Cleveland Clinic's Distance Health Program, said in a release provided by Samsung NeuroLogica and MedyMatch. "Emergency treatment is needed to recognize and treat brain bleeds as quickly as possible and is critical in ensuring minimal damage."
Earlier this month, MedyMatch began working with IBM's Watson Health to distribute the company's brain bleed detection application to larger markets. The two companies will also continue to develop interoperability between the applications and IBM Watson Health Imaging's offerings.
"The implementation of AI-based computer aided detection and clinical decision support tools to medicine in general, and to the emergency department, in particular, has the potential to increase the speed, accuracy, and efficiency of patient management – with the potential to ultimately reduce diagnostic errors and improving clinical outcomes," Massachusetts General Hospital Director of Emergency Radiology Michael Lev, MD, said in a statement.
READ MORE: The Benefits and Challenges of Telehealth for Specialists
"MedyMatch is ideally positioned to leverage this technology, and their willingness to collaborate with industry partners reflects their awareness of, and sensitivity to, the complexities of patient assessment in the acute care setting," said Lev, who is also professor of radiology at Harvard Medical School. "The company's first algorithms - CT detection of intracranial bleeds - represents the confluence of physician know-how and artificial intelligence clinical support."
The integration with Samsung NeroLogica is the initial phase of the two companies' "A.I. to the Curbside" program, which seeks to infuse machine learning capabilities in mHealth devices used in any number of emergency situations.
"We are on the threshold of the next evolutionary step in Imaging," Gene Saragnese, chairman and CEO of Israel-based MedyMatch, said in the release. "Imaging technological development has been historically focused on providing clinicians [with] the best possible image, optimizing spatial and temporal resolution, coverage and dose. … MedyMatch's artificial intelligence applications will leap this paradigm forward, enabling Imagers such as CT to provide clinical answers and not just images, creating the truly intelligent imaging machine to assist physicians every day."
"This is just one example of how intelligent imaging can have a positive impact on a stroke or trauma patient and provide a whole new level of care,'" added Robert Mehler, the company's chief medical officer. "MedyMatch envisions that medical imaging devices will be A.I.-enabled with decision support to assist the physician in patient care, increase the speed in which patient assessment can be performed and optimize the clinical workflow."
With several studies proving the value of telestroke services in providing potentially life-saving care to stroke patients within hours of the first sign of symptoms, some healthcare providers are experimenting with MSUs, which would move that initial point of care from the hospital to the patient's location.
READ MORE: Telemedicine Backpack Gives Providers a New Mobile Health Tool
A 2015 study undertaken by the Cleveland Clinic and the Cleveland Emergency Medical Service and reported in JAMA Neurology found that such a service could cut at least five minutes off the time needed to give a patient a CT scan, while it could shave 26 minutes off the time taken to administer the clot-busting drug tissue plasminogen activator (tPA).
Among the first cities to test MSUs is Chicago, where Northwest Medicine Central DuPage Hospital and Rush University Medical Center are both rolling out specially equipped vans.
"I think this will be the standard of care as time goes by. It's a phenomenal technology to have," Harish Shownkeen, MD, medical director for stroke and neurovascular medicine at Northwest Medicine Central DuPage Hospital, told the Associated Press earlier this year. "The treatment hasn't changed; it's the initiating of the treatment that has made the quantum leap."
"Time really is of the essence," added James Conners, MD, section head of cerebrovascular disease at Rush University Medical Center. "For every minute that goes by of a blockage in the brain, you lose about 2 million brain cells."
Along with Chicago, mobile CT units from Samsung NeuroLogica are deployed in MSUs in New York, Trenton, N.J., Alberta, Canada, Bangkok, India and Germany, according to Phillip Sullivan, Samsung NeuroLogica's president and CEO.
READ MORE: The Impact of BYOD on Healthcare Providers and Hospitals
"Our collaboration with MedyMatch is one more step forward in advanced technology to support better treatment of stroke," he said in the press release.