mHealth Patch is Put to the Test at Brigham and Women's Hospital
The Partners HealthCare hospital is studying whether the biosensor patch and mHealth platform can replace expensive hospitalizations and improve patient outcomes.
- Boston's Brigham and Women's Hospital is launching a remote patient monitoring study to determine whether a smart patch can help physicians take care of patients at home rather than in the hospital.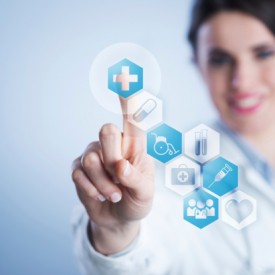 The hospital, part of the Partners HealthCare network, began enrolling roughly 60 patients this fall, and plans to scale up to 500 patients in early 2017. Eligible patients must be diagnosed in the hospital's emergency department with exacerbation of heart failure, pneumonia, COPD, cellulitis or complicated urinary tract infection.
Half of the patients in the study are admitted to the hospital for traditional treatment, while the other half are "admitted to home" - discharged with an RPM platform that includes biosensor patches designed by VitalConnect and personalized physiology analytics technology designed by PhysIQ. The lightweight, wireless patch continuously monitors vital signs and other data – such as heart rate, heart rate variability, respiratory rate, skin temperature, posture, step count and falls – and transmits that data back to clinicians.
Those sent home with the mHealth platform are also contacted daily by clinicians, who review the data collected by the patch and adjust care management plans as needed.
"The evolution of digital medicine makes us even more confident in the home hospital model for our patients," David Levine, MD, a General and Internal Medicine Fellow at Brigham and Women's and the study's principal investigator, said in a recent press release. "The purpose of this study is to show how we can deliver superior outcomes at a lower cost for patients who otherwise would be hospitalized."
"We are in a very exciting era of medicine where clinical-grade biosensors and analytics are capable of delivering continuous physiological insight that was traditionally only available in the hospital environment," he added.
The project aims to determine whether an mHealth platform featuring biometric sensors can replace costly hospital admissions and improve health outcomes, as well as quality of life, patient safety and overall patient experience. It's also one of the first hospital-based tests of the Band-Aid-like biosensor patch, also called a "grab-and-go" patch.
Vital Connect debuted the smart patch at this year's HIMSS16 Conference and Exhibition in Las Vegas, one of several mHealth innovators focused on wearable patches or tattoos that can be used for short periods of time to continuously track vital signs. The company unveiled its patch, which had been in development since 3011, and announced its partnership with PhysIQ at that time in an effort to drive provider interest in the technology.
"A little more than five years ago nobody was talking about this because the (technology) really didn't exist then," Valeska Schroeder, VitalConnect's senior vice president of product management, said at the HIMSS conference.
Dig Deeper:
Digital Decision Support: 4 Examples of mHealth in Action
An mHealth Dilemma: Can Wearables Generate Medical-Grade Data?