mHealth Researchers Turn the Smartphone Into a Diagnostic Device
New mHealth technology aims to make the "lab-on-a-smartphone" a common tool for detecting and treating diseases, connecting patients to doctors and delivering mHealth to remote areas.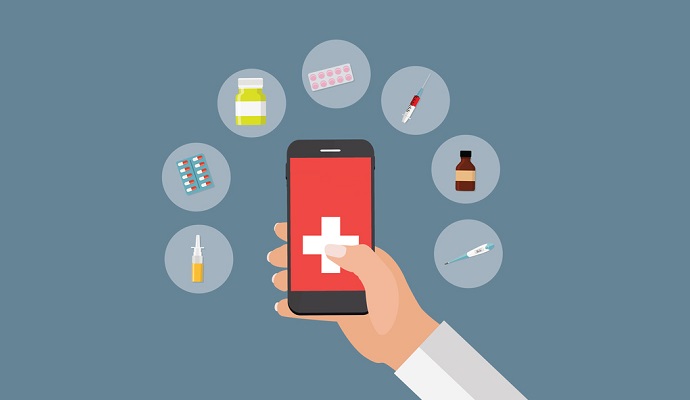 Source: ThinkStock
- Two University of Illinois researchers have developed a camera that could vastly improve the mHealth diagnostic capabilities of a smartphone.
The key to marketing the "lab-in-a-smartphone," though, could lie in its popularity as a cool new toy.
Funded by a National Sciences Foundation grant three years ago, UI professors Brian Cunningham and John Dallesasse created a "science camera" that can conduct optical spectronoscopy. The technology creates and then disseminates LED light through a linear variable filter (LVF), enabling the user to read liquid- or paper-based medical tests.
Fitted into a smartphone, the technology could enable users to conduct a myriad of medical tests that previously have been limited to the clinic or lab, identifying biomarkers for nutrition, cardiac health, sepsis, cancer, pregnancy, drugs, hormones and infectious diseases. And linked to a smartphone app and the cloud, the user could then communicate in real-time with clinicians and specialists.
"To make it work, smartphone manufacturers would add a camera for science purposes," Cunningham, the Donald Biggar Willett Professor of Engineering, told biosciencetechnology.com. "The pixels of the additional image sensor would have a linear variable filter glued on top of it that transforms the camera into a spectrometer. Since the component would be an integral part of the phone, the information generated by it can be seamlessly integrated with other information about the patient, and the test being performed, while interacting with a cloud-based smart service system that provides immediate actionable feedback."
READ MORE: Telehealth Looks to Digital Diagnostics to Improve Virtual Care
But this type of technology, while attractive to scientists and doctors, won't necessarily help sell the new Samsung or iPhone model. To create a sustainable market for the mHealth platform, Cunningham said it would have to appeal to the consumer.
"In addition to measuring health diagnostic tests, the sensor could measure all sorts of fun things too," he said. "For instance, it could be used to measure the color of everyday objects, such as your shirt or for matching the color of the sky to the paint color in your living room. It would be very useful for graphic artists, photographers, architects and citizen scientists."
The challenge is a familiar one in mHealth. The smartphone holds a lot of value as a mobile mHealth device and in-the-field digital health platform, connecting users to doctors, allowing the transmission of important biometric and other data, and providing clinical decision support in remote locations. More recently, researchers have been developing sophisticated technology to turn the smartphone into a portable lab, a particularly useful tool in remote and underserved locations.
The possibilities are numerous. A smartphone could be used to test for and begin treatment of diseases like hepatitis, malaria, HIV/AIDS, even Zika and Ebola in remote locations. It could help consumers determine if they or their children have the flu before heading out to work or school. Through an mHealth collection platform, it could help clinicians identify outbreaks or treat patients who can't get to the clinic or hospital.
Just last year, researchers at the University of Texas Health Science Center in Houston used "smartphone microscopes" to diagnose non-melanoma skin cancers, recording results that were 60 percent to 90 percent accurate.
READ MORE: How an mHealth Project Fighting Rabies in Africa Might Shape Population Health Efforts
"Our study demonstrates the potential for a high-performing, low-cost smartphone microscopy system in the diagnosis of cutaneous disease," said Richard R. Jahan-Tighe, MD, assistant professor of dermatology at UTHealth and lead author of the study, published in the Archives of Pathology & Laboratory Medicine. "Studies with larger sample sizes of pigmented lesions, NMSC subtypes, and dermatologic infections could help improve this modality for point-of-care diagnostics in resource-poor settings."
In 2016, healthcare providers spent $18.4 billion on point-of-care diagnostic testing services, ranging from pregnancy tests to blood and endocrinology tests, according to Kalorama Information.
"The driving force behind point of care innovations in the health arena is to provide expedited diagnosis where the patient is seen or in the patient's home," Kalorama publisher Bruce Carlson said. "New technologies are allowing POC devices to produce quantitative lab-quality test results that can be transferred automatically to an information system, a remote caregiver service for consultation, or an electronic medical record."
In another example of a more consumer-friendly concept, the Australian company ResApp is testing an app that analyzes a user's cough. The SMARTCOUGH-C study is currently on hold to iron out some glitches, but is slated to begin anew at the Baylor College of Medicine and Texas Children's Hospital, the Cleveland Clinic and Massachusetts General Hospital sometime this winter.
"There's a massive market out there for this type of (diagnostic device)," company co-founder and executive director Brian Leedman said at the 2016 HIMSS conference, where he was debuting the app to the US clinical market and looking for ideas to make it a consumer product. "All you need is a smartphone. You don't need any more devices and you're not plugging anything in."
READ MORE: The Evolving Role of mHealth in Medication Management and Adherence
Back at the University of Illinois, Cunningham and Dallesasse, working with a team of student researchers, recently published a paper in the scientific journal Sensors and Actuators B that details how the technology, embedded in a smartphone held over a container of liquid, can measure the color of that liquid and send the results to a clinician.
They're looking now for a smartphone developer who would be willing to embed that technology.
"I think mobile health is going to mean medical diagnostic tests for nutrition or wellness, a service that the major smartphone companies can help provide," Cunningham said. "They are looking for ways that healthcare can fold in with their capabilities. We're hoping to find companies that are interested in differentiating their phone from others by having this capability."