Mobile Health Units Put the Emphasis on Access for mHealth
Specially equipped mobile health units like Flagstaff's 'Big Orange Bus' are giving healthcare providers new mHealth platforms to deliver services to underserved neighborhoods and push population health initiatives.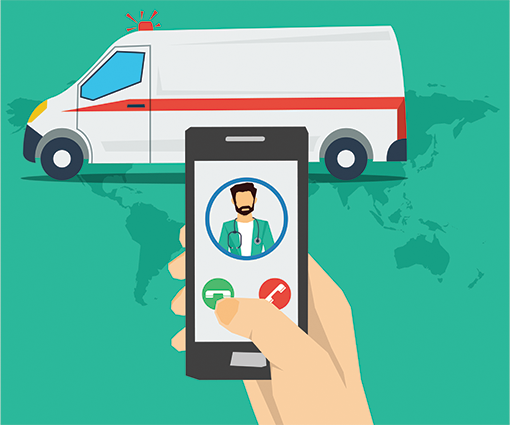 Source: ThinkStock
- Healthcare providers around the country are taking a literal approach to mobile health these days. They're customizing RVs, vans, buses and ambulances with telemedicine tools and wireless connectivity to bring healthcare to underserved populations, reduce time to treatment in emergencies and make life easier for schoolchildren and their parents.
In Flagstaff, Ariz., a mobile medical unit affectionately called the "Big Orange Bus" is on the road almost every day of the week in this city of 70,000, visiting businesses, schools and homeless shelters and generally serving as a roving resource for North Country HealthCare's outreach to underserved neighborhoods.
"It really, really has made an impact," says Bridget Wicks, a nurse practitioner who's been part of the program since the revamped RV first hit the road five years ago. "It allows us to see a lot more people … who wouldn't [otherwise] get these services."
The mobile unit, boasting two exam rooms, a dentist's chair and capabilities for doing lab work, now visits 14 sites across the city, offering physicals, immunizations, treatment for general illnesses and some dental services. It's a big hit at schools, offering respite not only for staff and students but for busy parents who would otherwise have to take a day off from work to deal with a sick child.
To Wicks, the biggest benefit can be seen at the once-weekly visit to the homeless shelter, where the Big Orange Bus not only dispenses medical services but a compassionate shoulder for those in need of a little attention. That might include counseling someone with an addiction issue, helping with prescriptions, identifying undiagnosed cases of diabetes or high blood pressure, or just finding a fresh set of clothes.
READ MORE: mHealth Pilot Targets Underserved Women Veterans
"I'm able to see them right there in the parking lot," she says. "It's a comforting environment. It's a secure environment for them, and so they open up to you."
A key component to the Big Orange Bus is its wireless connectivity. North Country recently installed software-defined wide-area networking (SD-WAN) technology from San Diego-based Mushroom Networks, enabling Wicks and her colleagues to communicate with providers and instantly access EHR platforms from any location in town.
Joe Connell, North Country's IT manager, says the 3G/4G/LTE bonding platforms – appropriately named Truffle and Portabella – replace a SIM card and antenna that often snapped off when the vehicle passed under trees, bridges and signs.
The single SIM card, meanwhile, was notoriously unreliable. In remote sections of Flagstaff, Wicks and her crew often had to drive around looking for that elusive second or third bar of connectivity so they could connect with the health system. In some cases they'd have to switch to paper records and charts.
With the Portabella platform on the mobile medical unit connecting to the Truffle platform at North Country headquarters, Wicks and her colleagues can access their VoIP mailboxes, share files, scan documents and access electronic medical records.
READ MORE: Telemedicine Backpack Gives Providers a New Mobile Health Tool
"Now it functions as a satellite clinic," Connell says. "It does more of what it was designed to do."
The Big Orange Bus is part of a growing trend, as healthcare providers look for more nimble platforms to connect with the communities they serve.
In a 2014 study published in the American Journal of Managed Care by researchers from Harvard Medical School, Beth Israel Deaconess Medical Center and New York's Callen-Lorde Community Health Center, among others, some 1,500 to 2,000 mobile medical units were identified and mapped across the U.S. Of those units, 44 percent provide primary care services, while 42 percent include prevention services and 31 percent provide dental care.
While schools and businesses are among the most common locations, many are aimed at underserved communities, including low-income and ethnic neighborhoods. An analysis of the patients in the 2014 study found that 57 percent were uninsured, while another 35 percent had public insurance.
The study also found that 45 percent of those mobile health vehicles are independently managed, while 25 percent are run by hospitals, 16 percent are run by clinics and 15 percent are run by academic medical centers. Some 38 percent are funded through grants, with 17 percent financed by state and federal programs and 10 percent are run by primary insurance providers and independent companies.
READ MORE: Community Paramedicine Brings mHealth Right to the Patient
"Mobile clinics are particularly successful in reaching vulnerable populations that have poorer health and less-than-optimal access to healthcare," says lead author Caterina F. Hill of Harvard Medical School. "By traveling to these communities and offering affordable, or, oftentimes, free services, mobile clinics remove logistical constraints such as transportation issues, difficulties making appointments, long wait times, complex administrative processes, and financial barriers such as health insurance requirements and copayments."
"Mobile clinics also overcome subtler barrier challenges in maintaining trusting relationships between healthcare providers and community members," the study continues. "Qualitative research has found that the mobile clinic staff's marriage of professional and personal discourses fosters trusting relationships, allowing them to stay engaged with clients and to support them through behavior changes and navigation of the healthcare system."
Hill and her colleagues concluded that as health systems take more interest in population health and value-based care for their Medicaid patients, they'll look to mobile health units as a better means of reaching these populations.
"These reforms should promote partnerships between mobile clinics and health centers that care for large Medicaid populations under accountable care contracts," the study concluded. "Similarly, as Medicaid programs look to improve value amid increasingly tight state budgets, policy makers should consider increasing funding to mobile clinics. Sick, disadvantaged patients with complicated social circumstances account for a majority of Medicaid spending. The ability of mobile clinics to reach vulnerable populations and promote improved disease management suggests that they will be effective in addressing the needs of this population."
Some health systems are creating mobile units to speed care to stroke victims.
In Chicago, Northwest Medicine Central DuPage Hospital and Rush University Medical Center are using specially equipped vans to treat stroke victims as soon as healthcare providers can reach them, shaving valuable minutes off the treatment time. Chicago is one of several cities piloting mobile telestroke units, which work alongside ambulance and EMS providers.
"I think this will be the standard of care as time goes by. It's a phenomenal technology to have," Harish Shownkeen, MD, medical director for stroke and neurovascular medicine at Northwest Medicine Central DuPage Hospital, said of the mobile stroke units (MSUs). "The treatment hasn't changed; it's the initiating of the treatment that has made the quantum leap."
"Time really is of the essence," added James Conners, MD, section head of cerebrovascular disease at Rush University Medical Center. "For every minute that goes by of a blockage in the brain, you lose about 2 million brain cells."
Both healthcare providers and the federal government are finding that these mobile vehicles will only succeed if the technology they use connects them seamlessly to the nearest hospital or health system. To that end, the U.S. Department of Agriculture's (USDA) Distance Learning and Telemedicine Grant Program (DLT) has set aside some $1.6 million in grant money specifically for telemedicine upgrades in ambulances and other emergency vehicles to improve communication with health systems in rural areas.
Back in Flagstaff, Wicks says the Big Orange Bus may be an important resource for both with little or no health insurance or access to primary care, but it also serves anyone who needs help and can't get to the nearest hospital or clinic.
"People are floored by what we can do," she says, adding that they've had to fight off the impression that this was just an immunization service. "We can be flexible. We can be creative. We have to be – there's a real need out there for this kind of service."