Monitoring Tools, Wearables Stimulate Mobile Health Industry
- The mobile health industry continues to rise significantly with wearable devices, remote monitoring tools, smartphones, and mobile health applications making the biggest splash in the field. Grand View Research published a report in which the global mobile health industry is expected to reach more than $49 million over the next five years.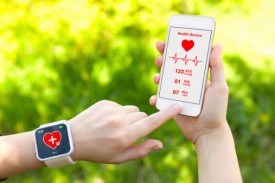 Remote monitoring tools will continue to dominate the market as the fastest growing segment. With healthcare costs continually rising on a global scale, the mobile health industry is poised to grow steadily due to its affordable capabilities.
As more individuals continue to utilize smartphones, mobile health apps will become an ongoing part of citizens' lives. The mobile health industry is expected to grow by 47.6 percent from 2014 to 2020. Remote monitoring services are predicted to continue growing due to chronic disease management and acute care capabilities.
"North America dominated the global market, accounting for 33.5% of total revenue in 2012. Highest demand originated from monitoring services, with growing incidences of chronic diseases necessitating the need for mobile health solutions among others," stated the company press release. "High per capita healthcare expenditure in developed markets is expected to be the key driver for regional growth. Driven by the need for accessible healthcare, the Asia Pacific market is expected to the fastest growing regional market, at an estimated CAGR of 49.1 percent from 2014 to 2020."
Wearable electronics are also expected to affect the consumer market and overall mobile health industry, according to the Sensors for Wearable Electronics & Mobile Healthcare report from Research and Markets. In particular, the smart watch, smart glasses, and smart clothing will all make a significant impact on revolutionizing the mobile health industry.
"Smart glasses and HUD are expected to hit the market with high volumes around 2019. Specific to the consumer market, it's evolved with two device types," a press release stated. "The first types are wrist-worn devices that target the healthcare and consumer markets. It started many years ago, with wrist-worn devices from players like Polar, Suunto, and Garmin, operating in a niche market: sports. Another wave of smart bands appeared in 2008, fueled by new players like Fitbit and Jawbone; this new generation mimics the smartphone approach in that they use MEMS technologies to reduce size, increase performance and decrease power consumption."
Certain areas are expected to affect industrial and military capabilities such as smart glasses and smart clothing. The wearables market is predicted to grow from $22 billion in 2015 to more than $90 billion over the next five years.
The Apple Watch is expected to make an impact on the wearable devices segment of the mobile health industry with anywhere from 16 to 20 million units expected to be sold by the end of this year. Both remote monitoring tools and wearable devices are expected to continue pushing forward the growth of the mobile health industry through the end of the decade.