New Texas Law Employs Telehealth Technology in Schools
- As the telehealth field moves forward in improving patient access to healthcare services and lowering overall medical costs, many experts advise that telemedicine should be included in pediatric care. Previously, mHealthIntelligence.com reported on a guidance from the American Academy of Pediatrics, which emphasized how telehealth technology could provide similar care on a remote basis and help children with certain healthcare needs achieve superior services.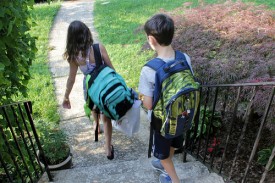 In Texas, a new law has been established to support utilizing telehealth technology in schools for diagnosing and treating children, according to The Texas Tribune. At the beginning of this month, the legislation enables doctors to speak with pediatric patients remotely via video consultation when the child is located at school. The law specifically supports children who are disabled and enrolled in the state's Medicaid program.
This law will allow more schools throughout the state to develop a system for adopting telehealth technology and enabling students to speak with doctors remotely. There is significant convenience for children's parents when telehealth technology is used. No longer will parents have to take time off from work for more minor health issues with their children.
"School-based telehealth involves the use of telecommunications, including interactive video conferencing and store-and-forward transmissions, to deliver a variety of health care services to children located in a school. School-based telehealth is a delivery method that can be used to improve health quality and academic outcomes, and provide access to a wide spectrum of care including primary and acute care, chronic disease management, behavioral and mental health, speech therapy, dental screenings, nutritional counseling, and prevention and health education," reported the American Telemedicine Association in a guidance called the State Medicaid Best Practice School-Based Telehealth.
Using telehealth technology throughout schools will ensure that children do not need to miss large portions of their education sitting in a clinic's waiting room. Instead, students can receive quick and effective video-based physician consults and find out the best option for treating a rash, an ear infection, or the typical cold.
Today, the telemedicine field includes a wide variety of remote monitoring tools such as an electronic stethoscope, which allows doctors to hear the heartbeats of their patients when they are located dozens of miles away. Additionally, a digital otoscope will allow a clinician to see the inside of a patient's ear when located remotely.
Children with an illness could speak to a doctor via video consults and receive a more thorough examination with the help of school nurses who can then either set up a further appointment at their primary care doctor or let their parents know about a new prescription.
Oftentimes, a physician consult could diagnose and assign medication for the child to take. As such, parents could pick up a prescription from the local pharmacy in time for the end of the school day.
"You want to talk about access? You want to talk about affordability? This is their access," State Representative Jodie Laubenberg told The Texas Tribune. "We can treat the child, have him ready to go, and we can leave him here… You don't have to take off work… He doesn't have to leave school. It's less disruptive."
School-based telemedicine services for Medicaid patients are being considered in other states besides Texas. New Mexico and Georgia have proposed legislation regarding the use of telehealth technology in schools, the American Telemedicine Association stated.
While the benefits of telehealth technology seem to outweigh the risks, there are certain critics that find fault with telemedicine. Only time will tell whether any significant disadvantages will exist with pediatric telehealth services.
"You'll end up sometimes with a doctor that's not adequately informed as to the patient's history or allergies," Lee Spiller, the policy director for the Texas branch of the Citizens Commission on Human Rights, told the news source. "How can you expect a kid to really be aware of risks, their allergies, medical history?"