Ohio Hospital Using Telehealth to Tackle 911 calls, ER Overcrowding
Atrium Medical Center is partnering with the local fire department to launch a telehealth service aimed at local residents who frequently dial 911. The community paramedicine program is one of hundreds popping up across the country.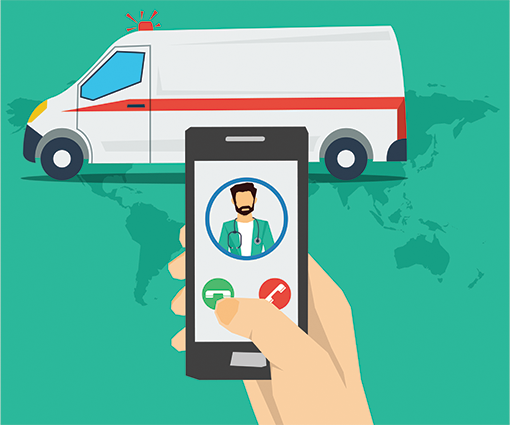 Source: ThinkStock
- An Ohio hospital is partnering with the local fire department and Miami University Oxford to launch a telehealth program aimed at the most frequent users of the 911 emergency system.
Middletown-based Atrium Medical Center and the Monroe Fire Department are launching a community paramedicine pilot program in the southwest Ohio community, with the goal of bringing connected health services to the region's most frail and homebound residents.
Also known as Mobile Integrated Health, the community paramedicine program involves sending healthcare providers – usually paramedics – on scheduled visits to the homes of people who most often call 911. The paramedics perform health and wellness checks using telemedicine equipment, check out the home for potential health hazards and educate residents on community health resources.
Atrium officials say the program aims not only to reduce unnecessary ambulance calls and ER visits, but to improve the health and wellness of residents who have problems accessing regular healthcare services.
As part of the program, Miami University students in social work programs will participate in the visits to chart their effectiveness. And the teams will carry a telemedicine kit developed by HNC Virtual Solutions.
"Not only is the patient's health and prognosis proactively improved through this revolutionary approach, but healthcare costs will be reduced, and the hospital's existing healthcare delivery system will be enhanced by freeing up further resources to respond to more significant medical emergencies," Julian Shaya, the company's executive vice president, said in a press release. "This virtual solutions tool is a game changer for healthcare."
As of mid-2017, some 260 EMS programs across the country were using some sort of community paramedicine program, up from 100 programs in 2014, according to the National Association of Emergency Medical Technicians.
"Having the opportunity to work with patients in the homes or work sites gives us the chance to be proactive instead of reactive," Amie Allison, EMS Director for Montana's Glacier County, said when the Glacier County Community Health Center launched its first-in-the state Integrated Mobile Health Service Program in early 2017.
Earlier this year in New Mexico, American Medical Response unveiled its Mobile Integrated Healthcare (MIH) program in Valencia County following talks with Blue Cross Blue Shield of New Mexico and Molina Healthcare, which will be funding the program for its members.
"Each assessment takes about an hour, but can vary in length," Shelley Kleinfeld, AMR's MIH supervisor for New Mexico, told the Valencia County News Bulletin. "It differs from the assessments done traditionally by EMS providers dealing with acute injuries or illnesses. It focuses more on the whole well-being of the individual providing resources, services and education to the patients so they can better manage their health."
"When doing an assessment, we perform a risk assessment, needs assessment, fall assessment, and assess patients' current needs," she added. "Community paramedics know resources and services that are available in the community and can assist patients to better utilize them. During the needs assessment we can determine if patient is urgently in need of something, whether it's a food box, water, medications and durable medical equipment. The community medic provider can than help the patients to quickly obtain those resources."
In Milwaukee, meanwhile, a program launched in 2015 by the Milwaukee Fire Department has reduced 911 calls from so-called "frequent flyers" by more than 50 percent over the past two years.
One variation of the service, Houston's Project Ethan (Emergency TeleHealth And Navigation), launched in 2014, sends first responders with telehealth equipment to the scene of a 911 call to assess the caller before deciding on transport.