Remote Monitoring Becoming a Larger Part of Healthcare
- The use of remote monitoring technology is growing across the healthcare industry. As mobile devices become more sophisticated, the quality of services available grow and these devices can become main tools in improving the quality of care.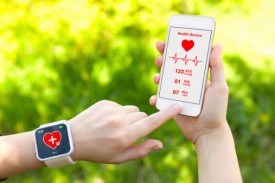 Two of the speakers at the 3rd Annual Leadership Summit on Telemedicine and Remote Patient Monitoring Strategies, which was held January 28-29 in Atlanta, were interviewed by RevCycleIntelligence.com about the current state of these systems and where is could be going.
Mario Gutierrez, the Executive Director of the Center for Connected Health Policy, believes that all health services need to get onboard when it comes to these services.
"The shift to telemedicine is inevitable," Gutierrez said. "This is not a fringe technology, it is very much in the mainstream."
He added that government incentives are also starting to reverse. The massive push toward value-based reimbursement is adding weight to innovative systems like telemedicine. This is because they allow for 24/7 access to care, cuts down on readmission to the hospital and can be a major benefit in rural areas to keep patients out of the ICU by allowing them to be monitored remotely.
"The data is there, the information is there. Legislators can no longer use the excuse of bad data in their arguments against telemedicine," Gutierrez said "Change is coming State to State with leadership. In states where there is real leadership that understands telehealth and see's the benefit of the technology and can make the case for embracing the technology, you see great change."
Denise Buxbaum, the manager of the nationally recognized Heart Failure Program at Essentia Health St. Mary's-Heart & Vascular Center, said that her facility has been using remote monitoring for sometime. The program, which has 2,300 patients, uses digital scales that are given to patients considered to be on in the worse health. The patients then weigh themselves daily, and that information is transmitted back to the hospital. This allows the hospital to monitor a major risk factor for heart failure - weight gain - in real time.
"Patients do better because we are keeping a closer eye on them and preventing them from being readmitted because we are able to get real time results," Buxbaum said. "If they are in trouble, we are calling them right then and there for an assessment, checking on their symptoms, their weight, their diet and right away we can go over it with their provider and get back to the patient, usually within an hour."
Mobile technology is evolving and has created a space for itself in the healthcare realm. Before long, it will become standard operations to have these tools at a doctor's disposal.