Remote Monitoring Tools, Wearables Shift Healthcare's Future
- As the mobile health field continues to advance, there are a variety of new devices and applications that are impacting the market as well as the healthcare industry in many ways. Remote monitoring tools along with smart watches and smart glasses are affecting the future of health, wellness, and fitness tracking across the American population.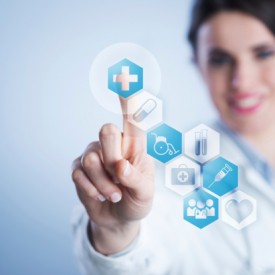 The media has made a big splash when it comes to smart glasses and smart watches. Due to this, the wearables market has been gaining headway in recent years. One new development that was made known during Google's fourth quarter earnings call shows that the enterprise version of Google's smart glasses is likely to be out on the market soon, according to Business Insider.
This type of development may lead to more video streaming along with other work-related functionalities. As more healthcare providers and professionals in other fields begin to adopt and implement smart glasses, the wearables market will gain more traction and widespread use. An area where headsets that have similar functionalities to smart glasses are making an impact is in the gaming industry. Clearly, wearable devices can affect various fields.
The smart watch is another wearable device that are revolutionizing how we view technology as a whole. A Forbes article describes how the smart watch is essentially replacing the mechanical watch, which is now considered mere jewelry by some.
"I think we can both agree that smartwatches are the most important innovation to watches at least since the quartz watch. In my view, even since the arrival of the wristwatch a century ago. The main functionality of a mechanical wristwatch, telling time, is almost a sideshow among the many new features of a smartwatch," Forbes contributor Marc E. Babej posed to Randy Brandoff, CEO of luxury watch membership company Eleven James. "I don't see how, over the long run, the mechanical watch can maintain its dominant position in the face of such utility."
Brandoff disagreed with this statement and finds that mechanical watches can still effectively compete in the market with the typical smart watch regardless of its popularity as a technological device.
"But mechanical watches are also about experiencing and appreciating craftsmanship, design – and owning something that lasts not for just a year or two, but for decades. Like our members at Eleven James, I can put on a different watch every few months. With each different watch, I often find myself spending 20 minutes, an hour, looking at it and appreciating everything that went into it. No smart watch can compete with that," Brandoff explained his position.
Along with the implications of smart watches, smart glasses, and other wearable devices, remote monitoring tools are playing a role in reforming the healthcare industry as well. The Marlborough, Massachusetts-based company Boston Scientific has recently announced becoming a shareholder in a manufacturer of diagnostic and remote monitoring tools called Preventice Solutions, according to the Boston Business Journal.
Boston Scientific is focused on expanding its influence on the diagnostics and remote monitoring market including the development of cardiac monitors. The company has also acquired a prostate health-related medical device company called American Medical Systems.
Preventice Solutions is currently working toward ensuring that two key remote monitoring tools, the BodyGuardian Heart Remote Patient Monitoring System and the PatientCare platform, will be on the market by the third quarter of 2015, according to a company press release.
"Innovative remote monitoring technology will help physicians gain deeper insights into their patients' health by collecting near real-time data," John Untereker, Executive Vice President and Chief Operating Officer of Preventice Solutions, said in a public statement. "BodyGuardian Heart will allow healthcare practitioners to monitor critical measures and manage many patients, thus safeguarding the health and safety of individuals every day. This approach will ultimately transform how health care is delivered for many common cardiac and chronic diseases."