Rural West Texas EMS Providers to Try Out a Telehealth Backpack
A Texas health system will equip 10 ambulances with telehealth backpacks and broadband connectivity to help EMS providers connect with health systems n an area larger than New England.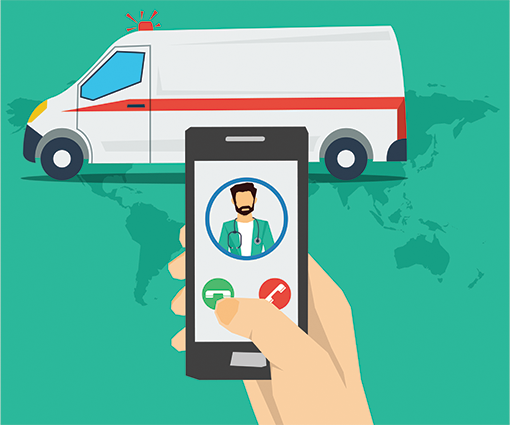 Source: ThinkStock
- A Texas health system is launching a telemedicine project to equip rural EMS providers in West Texas with digital health tools, including a telemedicine backpack.
Texas Tech University Health Sciences Center (TTUHSC) is partnering with the Commission on State Emergency Communications (CSEC) to equip 10 ambulances with swymed's DOT Telemedicine Backpack and LTE/4G connectivity from Verizon and AT&T.
The project is designed to give rural EMS services covering an area larger than New England and New York combined a real-time link with health systems that might be hours away.
"Telemedicine technology for emergency management situations, and particularly in rural geographies, requires specialized tools with the flexibility to find and make the most of the available carrier signals," Stefano Migliorisi, CEO of Lexington, Mass.-based swyMed, said in a press release.
The company is one of a growing number of mHealth and telehealth providers packaging their products in backpacks or suitcases, giving healthcare providers a portable platform for delivering healthcare to remote and hard-to-reach locations.
Earlier this year, swymed backpacks were deployed with EMS providers affiliated with Mission Health, an Asheville, N.C.-based, six-hospital health system that covers 18 counties in the state. Those units were sent into some of the most rugged terrain in the Eastern US, where broadband is scarce and doctors are even scarcer.
"This is something you can throw over your shoulder and go out the door with," Charles Blankenship, Mission Health's manager of system EMS transport, said. "It's a much more user-friendly system. And when patients see us coming out to them [with the backpack] and find that we care about them and what to give them a little help … they start caring more about themselves as well."
In west Texas, where TTUHSC covers an area of 108 counties and 131,459 square miles, EMS providers sometimes have to drive hours to reach the nearest hospital. In trauma cases, the distance to a hospital or clinic capable of handling such patients might be even longer.
Recognizing those challenges, the Texas Legislature passed House Bill 479 in 2015 by a 140-1 vote "to improve patient outcomes by using telemedicine technology to bring the judgment of trauma surgeons into the back of ambulances to assess and direct treatment." The legislation transferred some regional EMS management to the CSEC with the goal of finding ways to improve rural healthcare delivery through telemedicine.
"The project will focus on trauma, cardiac and stroke EMS calls and is based on the idea of Remote Patient Evaluation (RPE), giving the physician the tools to see and observe the injuries and accident site so treatment can begin immediately and the patient is brought to the most appropriate destination for care, via the most appropriate means," swymed and TTUHSC pointed out in the press release.
mHealth-optimized ambulances aren't just for rural locations. Urban areas are also experimenting with enhanced EMS services – sometimes called paramedicine – in an effort to quickly connect ambulances with the hospitals they're heading towards. The concept is especially popular in treating stroke patients, who need access to neurologists as quickly as possible.
In other cases, healthcare providers are equipping EMS services with telehealth and mHealth tools to separate emergency cases from non-emergency cases – by giving paramedics the opportunity to triage 911 calls before transport – and to help providers maintain contact with chronic care patients before their health concerns become serious enough to warrant an EMS call.