State Licensing a Major Hurdle for Telehealth
Inconsistencies between states when it comes to medical licenses hampering telemedicine adoption.
- One of the biggest challenges to any form of technological and industry innovation is government regulation and policy. Traditionally, government moves slowly when it comes to creating new rule or adapting existing ones to address new devices, software or strategies. This happens because lawmakers need to be sure a new solution is fully understood and vetted before policy is crafted and put in place.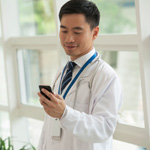 However, this creates a noticeable gap, when the benefits of a particular technology or strategy is widely known, but red tape keeps it from taking off as quickly as it could.
For telehealth, one of the biggest issues is State licensing. This is a problem because one of the biggest advantages of telehealth is the ability to do away with borders and take care to those that need it. Inconsistency from state-to-state and variability of requirements for physicians to obtain a medical license, makes it difficult to telehealth reach its full potential.
In an earlier interview with mHealthIntelligence.com, American Telemedicine Association CEO Jonathan Linkous spoke about some of the major challenges to telehealth adoption. He discussed the built-in obstacles and used the example of physician licensing.
"A physician must be licensed in every state and now that healthcare is becoming available no matter where you are, if you are located in Boston and travel to Florida and you come down with a bug and just need to talk to a doctor, your doctor in Massachusetts needs to be licensed in Florida," Linkus said. "We need to overcome this problem with licensure because technology works against it. There was a similar issue with banks years ago when banks were limited to one place and you couldn't use an ATM in another state. Well we overcame that and we need to do the same thing with healthcare today."
To find out how bad of an issue state licensing is, C3O conducted a study. It send out a 30-question survey to 61 individuals, representing 21 companies and healthcare systems. These participants meet strict inclusion criteria, including processing well over 1,000 applicants per year. They were asked specifically about about the state medical boards and their assessment of the ability to obtain a license. Respondent ranked states on responsiveness to questions, cooperation, willingness to expedite the application, and knowledge.
It was uncovered that 46 percent of respondents perceived the state medical board licensing process to be reasonable and 54 percent reported an extended application process because of variable requirements and a deficiency of board office assistance. Other issues with the medical boards include: failure to respond to calls or email, failure to provide timely updates of missing content, lack of consistent processes, provision of erroneous information and failure to use the Federal Credentials Verification Service.
"If there were ever a time for the mission of state medical licensure boards to rally in support of shaping the future of healthcare delivery by finding a solution for removing a most significant barrier to telemedicine, the time is now," the report reads.