Telehealth and mHealth Key for Strategic Planning, Triple Aim
- Telehealth and mHealth are key competencies for healthcare organizations attempting to meet the goals of the Triple Aim, HIMSS15 attendees are demonstrating this week. As patient engagement and satisfaction have a greater impact on emerging reimbursement structures and regulatory mandates, healthcare providers are turning to telehealth as a cost-effective way to expand access to care while providing quality services.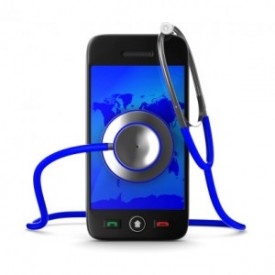 The 26th Annual HIMSS Leadership Survey revealed that nearly half of the 330 organizations represented in the poll currently have a telehealth or mHealth strategy in place as a way to keep patients engaged. Forty-nine percent have telehealth services available, while 29 percent use remote coaching or education and 21 percent provide real-time remote patient monitoring for those with chronic diseases or complex needs.
Others are blending mHealth into their patient portal technologies with 57 percent of participants leveraging social media for patient engagement, and nearly 20 percent providing mobile apps that can monitor and measure vital signs and other patient-generated health data.
With sixty-eight percent of organizations in the Leadership Survey believing that these health IT tools are critical for improving the patient experience as part of the Triple Aim, it is no wonder that the American Medical Association believes telehealth and remote monitoring technologies are key competencies for providers who wish to successfully navigate reimbursement changes while retaining patient loyalty through better outcomes and higher satisfaction.
Telehealth forms a major piece of the AMA's new digital health strategy, intended to help physician providers maximize their resources while equipping patients with the tools to manage their own health more proactively.
"In these rapidly changing times in healthcare, we will need agile technology to adapt and succeed," said AMA President Robert M. Wah, MD in an emailed press release following his keynote address in Chicago on Monday. "To harness these capabilities, physicians are leading new approaches for delivery and payment of medical services, and challenging regulatory barriers holding back the promise of information technology in health care."
"When physicians, policymakers, vendors and technology innovators work together, the power of technology can enhance patient care, improve productivity and efficiency and slow the rise in health care costs."
Partners HealthCare is taking those words to heart with the announcement of a new partnership with Samsung Electronics at the HIMSS15 show, developing software and clinical research to expand the use of remote monitoring and telehealth for chronic disease management and population health management.
"We are excited to have access to the vast capabilities of Samsung Electronics to help improve the way we deliver care to our patients. This joint development program has the potential to significantly propel mHealth and personal connected health forward," said Kamal Jethwani, MD, MPH, Senior Director of Connected Health Innovation at Partners HealthCare. "This project represents the start of how smart technology, intelligent algorithms and world class clinical expertise can be combined to change the paradigm of care delivery."
"This partnership will be an important step towards embracing the real needs of healthcare providers and patients. We aim to leverage our technology to help individuals lead healthier lives, while delivering healthcare providers the tools they need to improve clinical outcomes," added Suntae Jung, Vice President at Samsung Electronics.