Telehealth in the Spotlight as HHS Expands Bundled Payment Models
Officials are expanding the CMS joint replacement model and adding one for cardiac care - an indication that telehealth may soon become a standard for post-discharge care.
- The proposed expansion of a bundled payment program may be a sign that federal officials are placing more confidence in telehealth as a standard of care.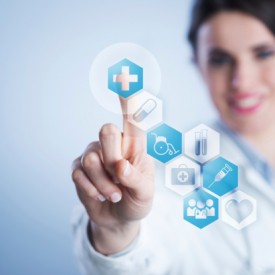 Health and Human Services Secrtary Sylvia M. Burwell has announced that a bundled payment model for hip and knee replacements will be expanded to other surgical treatments for hip and femur fractures beyond hip replacement, and they're launching a similar program for those undergoing treatment for a heart attack or bypass surgery. The model emphasizes telehealth as a means of supporting care once the patient has left the hospital.
"Having a heart attack or undergoing heart surgery is scary and stressful for patients and their families," Burwell said in a press release accompanying the 900-page proposal. "Today's proposal is an important step to improving the quality of care Americans receive and driving down costs. By focusing on episodes of care and rewarding successful recoveries, bundled payments encourage hospitals to coordinate care to achieve the best outcomes possible for patients."
Launched earlier this year, the Centers for Medicare and Medicaid Services' Comprehensive Care for Joint Replacement (CCJR) model created a bundled payment program for knee and hip replacements, making the hospital in which the procedure takes place accountable for quality and costs of the full procedure up to 90 days after discharge. The rule also waived geographic and originating site requirements that factor into reimbursement, enabling the hospital to use telehealth to facilitate the patient's transfer to a skilled nursing facility and/or home.
Medicare has traditionally set strict guidelines on reimbursable telehealth uses, including limiting the sites covered to a medical facility (not a home) and located in either a rural area or one designated as a Health Professional Shortage Area. In addition, communications between doctors and patients were restricted to interactive, two-way systems with real-time audio and video.
READ MORE: Telemedicine Gets a Passing Grade in School Concussion Study
With the CCJR program for joint replacements, CMS relaxed the rules to allow the originating hospital to map out a post-operative care plan that uses telehealth to connect to wherever the patient is located, including the home. "Any service on the list of Medicare-approved telehealth services," the rule stated, "could be furnished to a (patient), regardless of (his or her) geographic location."
The expansion to cardiac care targets an estimated $6 billion spent in 2014 on more than 200,000 Medicare beneficiaries undergoing heart attack treatment or a bypass. Officials noted that the cost of treating patients for bypass surgery, hospitalization and recovery varied by as much as 50 percent, while hospital readmissions within 30 days also varied by more than 50 percent.
This identifies post-discharge care as the area with the largest cost and outcomes discrepancies – and the area where telehealth could make the biggest impact.
Peter Orszag, former director of the Congressional Budget Office and the Office of Management and Budget, called the proposal "another big step in the right direction."
"The new cardiac bundles, like the hip and knee bundle, include the care a patient receives after leaving the hospital," he said in an op-ed piece for Bloomberg. "That's important, because post-acute care appears to account for great variation in health costs, and it's the aspect of care where extra spending has provided the least benefit."
READ MORE: Telehealth Looks to Digital Diagnostics to Improve Virtual Care
"Patients want the peace of mind of knowing they will receive high-quality, coordinated care from the minute they're admitted to the hospital through their recovery," Patrick Conway, MD, CMS' principal deputy administrator and chief medical officer, added in a press release. "The variation in cost and quality for the same surgery at different hospitals shows there are major opportunities for hospitals included in today's models to reduce costs, improve care and receive additional payments by improving patient outcomes."
Alongside these new bundled payment programs, HHS announced plans to test new incentive payments that would encourage healthcare providers to collaborate with other providers, such as cardiologists, nurses, dietitians and physical therapists, in cardiac rehabilitation programs. Studies have shown that only 15 percent of heart attack patients enter cardiac rehab programs, even though they've been proven to reduce the risk of another heart attack or death.
Also, officials left the door open to classify these programs, beginning in 2018, as Advanced Alternative Payment Models, enabling physicians to qualify for incentives under the proposed Quality Payment Program.
CMS will randomly choose 98 metropolitan areas to implement the mandatory cardiac care bundled payment models, phasing them in over five years starting in July 2017. For the joint replacement model launched earlier this year, CMS selected 67 metropolitan areas.
Dig Deeper:
READ MORE: Store-and-Forward Telehealth Service Replaces the Office Visit
Telehealth Scores Big in Joint Replacement Bundled Payment Plan