Telemedicine Offers New Benefits for Schools
A small school in rural Louisiana is hoping its new program not only creates a healthier student population, but also cuts costs, boosts morale and improves grades.
- If you're looking for the ROI in school-based telemedicine, don't limit yourself to clinical outcomes.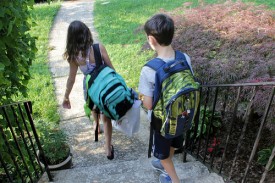 That's the lesson being learned with the Telehealth for Tots clinic at Stephensville Elementary School, one of the more remote schools in Louisiana's St. Martin Parish School District. Funded by a United Way grant and other donations, the clinic enables students and staff to access care at the school via video consults with doctors and nurses at a health center.
And it starts with a part-time nurse, funded by the grant, who manages the telemedicine station.
"She comes three times a week, and she sees kids who are sick for minor illnesses and injuries and things a child would maybe check out of school for," Adrienne Huval, the coordinator for the St. Martin Parish School-Based Health Centers and School Nurse Program, told the IND Monthly online news site. "She'll determine if they need a higher level of care and if so, she will hook up the telemedicine equipment and they'll call St. Martinville, where we have a school-based health center and a full time nurse practitioner who can diagnose and write prescriptions."
Without this telemedicine station, school officials said, the students would have to rely on twice-monthly visits by a traveling nurse from one of the district's three health centers, or they and their caregivers would have to drive more than an hour to the nearest clinic.
Add up the transportation costs (especially if follow-up appointments are needed), work and school time missed and any adverse health issues related to delayed treatment, and the cost to treat one child with something like a head cold or sinus infection can be daunting.
And there's more. The telemedicine station also cuts down on travel time and costs for the district's traveling nurses, who have 17 schools to cover. And if students are treated more quickly in school for minor health issues, they're more apt to feel better, they won't miss school, and they'll become better students. As a result, the school will become more successful as well.
Some of these results may be hypothetical at the moment, but St. Martin Parish officials are dreaming big when it comes to the telemedicine station.
"It's a pilot site, and it's really what I wanted for this school because the absentee rate is actually very high for a school with only 140 students, comparable to some of our schools with 500-600 students," Huval added. "We're already starting to see a decrease in absenteeism at Stephensville. We're hoping that we can eventually see an increase in test scores and better grades, because that's all linked to absenteeism. A student is not going to do as well if they are not at school, and they certainly won't do as well if they are sick."