Telemedicine Partnership Envisions an RPM Program Without Devices
A telemedicine collaboration between VSee and InteloMed aims to create a remote patient monitoring platform that uses video-based mHealth technology, rather than connected devices, to capture vital signs.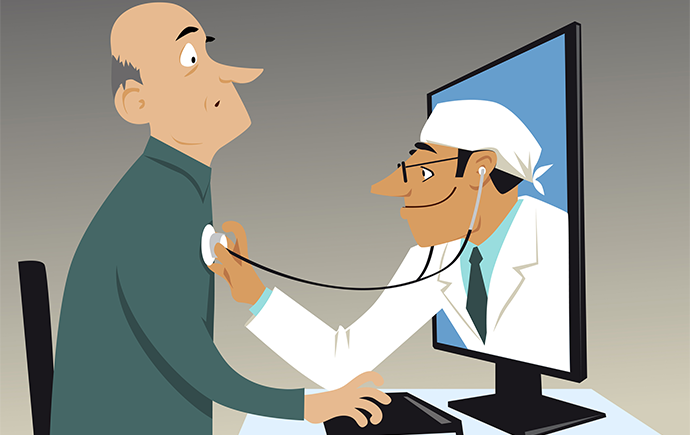 Source: ThinkStock
- A new telemedicine partnership aims to improve remote patient monitoring programs by capturing vital signs without the need for medical devices.
VSee, the California-based developer of video visit platforms used by Ascension, Intermountain Healthcare, Trinity Health, MDLive and NASA, among others, is joining forces with a telemedicine company whose latest technology captures vital signs through an mHealth app.
Developed by InteloMed, the mCVInsight app uses facial detection and tracking software to capture physiologic data through smartphone sensors. The technology is currently involved in pilot projects aimed at achieving U.S. Food and Drug Administration approval.
"Until now, remote patient data has only been as good as the medical devices the patient already has at home and the patient's ability to effective use the devices," Bill Malloy, the Pittsburgh-based company's CEO, said in a press release. "By partnering with VSee's video telehealth platform, we can save telehealth doctors and patients valuable time by remotely capturing empirical patient health information during the very first doctor-patient interaction."
Originally designed to capture cardiovascular information from dialysis patients, the FDA-cleared InteloMed CVInsight Monitoring System captures a patient's pulse waveform through a forehead sensor and transmits that data to clinicians. The company has now condensed that capability into non-contact an mHealth app that can be used with a smartphone.
The concept isn't new to telemedicine. Two years ago, a hospital in Scotland used a camera integrated with facial recognition and Microsoft Kinect gaming software developed at the nearby University of St. Andrews to measure a patient's pulse rate and blood oxygen levels.
"When you go into hospital, your vital signs are measured to show clinicians how well you are," David Harris-Birtill, MD, a lecturer in computer sciences at St. Andrews and the lead researcher on the project told a local newspaper. "A clip at the end of your finger can let them know if you are getting better or worse. The clips are great, but one problem is you need a nurse to clip them on, which means a wait of 45 minutes, or however long, before they can start measuring how well you are."
Last year, mHealth-based EHR developer Drchrono unveiled a technology platform that allowed healthcare providers to open an EHR in an iPhoneX through Apple's new Face ID application.
mHealth and telemedicine researchers are also looking to apply facial scanning technology to mental health and substance abuse, with the idea that a digital health platform that scans a user's face can detect stress and emotions that the user might not comprehend or be able to relay to a healthcare provider.
The VSee-InteloMed collaboration add a new wrinkle to the fast-growing RPM market, which recently received a boost with the introduction of new CPT (Current Procedural Terminology) codes from the Centers for Medicare & Medicaid Services and the American Medical Association. Those codes give healthcare providers the opportunity to be reimbursed for adopting and expanding connected care services that include remote monitoring.
Telehealth programs have typically struggled to integrate virtual visits with reliable data capture, often because home-based medical devices are either unreliable or too complicated for patients. As a result, RPM programs dispatch healthcare providers to the patient's home to collect data, send those patients to a clinic or doctor's office to get that information, or use expensive medical-grade sensors that hike the program's bottom-line.
Consumer-facing companies like Fitbit, Apple, Garmin and Withings are moving to make their products clinically acceptable, while mHealth companies like Tyto Care, Ideal Life and Honeywell HomMed are looking to market medical-grade devices that meet the needs of RPM programs without breaking the bank.
With this new collaboration, VSee is trying to create a device-free RPM platform.
"One of the barriers to telehealth uptake has been the problem of conducting a physical exam remotely," company CEO Milton Chen said in the press release. "Intelomed's breakthrough technology is a leap forward to making this problem trivial and making telehealth a natural part of healthcare delivery."