Telemedicine Projects Deliver Two-Way Specialty Bedside Care
Newly launched telemedicine projects at two healthcare organizations will provide real-time bedside specialty care using two-way communication.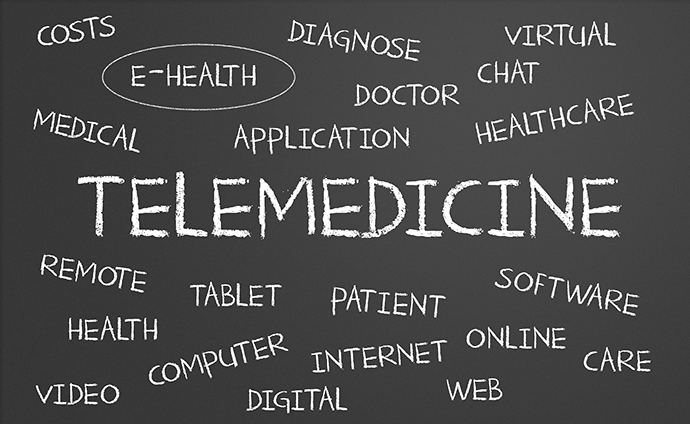 Source: Thinkstock
- Two new telemedicine projects, initiated at Northwell Health Stern Family Center for Rehabilitation and Weeks Medical Center, will use two-way communication to give patients access to real-time specialty care at the bedside.
The Northwell Health Stern Family Center for Rehabilitation, a skilled nursing facility, has introduced a telemedicine program that will allow physicians to promptly assess and diagnose clinical problems and ultimately reduce hospital readmissions.
"Telehealth meets our specific needs with a large sub-acute population given the acuity of our patients," said Medical Director Howard Guzik, MD.
"Most skilled nursing facilities don't have physicians on the premises 24/7. To provide around the clock access to physicians, we invested in two portable telehealth carts. If an acute medical situation arises, a cart is wheeled into a patient's room and a nurse supervisor can access a consultation with a physician in real-time."
The telehealth carts are linked to Northwell Health's Telehealth Center where intensivists and critical care nurses and physicians have real-time access to a patient's vital signs and cardiac rhythm through two-way cameras and monitors.
Physicians can also easily access patient electronic health records through the technology, and there is a microphone and speaker in the room to allow direct communication between healthcare providers and patients or family members.
This project is a crucial innovation for Stern. In the past, if a patient's condition changed after physician hours, clinical staff had to rely on telephone consults with doctors or transport patients to a nearby hospital.
"Telehealth technology is evolving and we are happy to add this critical service to Stern," said Northwell Health Executive Director Gerard Kaiser. "Telehealth is an extra reassurance for patients and families to have access to physicians 24/7."
Weeks Medical Center has also announced that they will partner with Dartmouth-Hitchcock Center to add new neurology and psychiatry telemedicine services for local patients.
The services will use a live, two-way secure video connection on large format, high-definition equipment that will connect patients and Weeks medical staff with specialists at Dartmouth-Hitchcock.
In an emergency room or inpatient setting, psychiatry and neurology telemedicine services enable patients to receive care at locations such as Weeks that don't have round-the-clock in-person coverage.
The organization anticipates that providing patients with assessment and treatment recommendations via real-time consultations will help reduce transfers and keep patients closer to home.
"The goal of telemedicine is to improve the quality of care at Weeks and provide better outcomes for patients while keeping that care local," said Mike Lee, President of Weeks Medical Center.
"Telemedicine also helps reduce the cost associated with care for both the patient and the hospital. It also saves patients time and money in travel and lost work hours. Our partnership with Dartmouth-Hitchcock allows us to bring the highest-quality specialty services, such as neurology and psychiatry, to our patients where they currently don't exist."
Last week, Temple University launched a nationwide telemedicine program targeting care management for people suffering from idiopathic pulmonary fibrosis. The Temple Lung Center at Temple University Hospital is partnering with Philadelphia-based telehealth provider HGE Health. Meanwhile, Michigan's Covenant HealthCare launched a pediatric telehealth program to give residents access to specialists from two Shriners hospital giving providers access to specialists in orthopedics, burns, soft tissue conditions, spinal cord injury rehab, and cleft lip and palate.