Texas Health Resources Turns to mHealth to Meet Urgent Care Needs
The Arlington-based health system has launched an mHealth service that dispatches a specially equipped SUV and healthcare providers to the homes of patients who would otherwise visit the Emergency Room.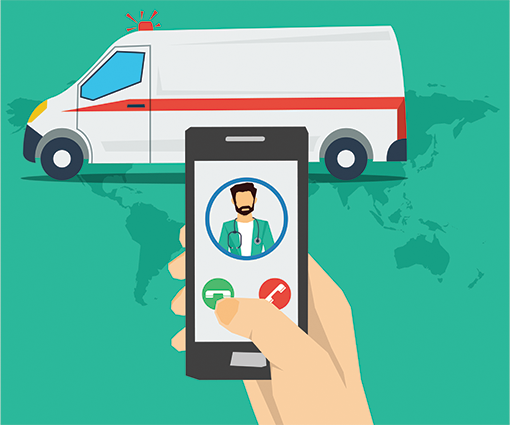 Source: ThinkStock
- Texas Health Resources is giving new meaning to direct-to-consumer telehealth.
The Arlington-based 24-hospital health system recently launched an urgent care mobile health program in which a team of providers in an mHealth-enabled SUV is dispatched to a caller's home. The team – consisting of a physician assistant or nurse practitioner, medical technician and a licensed emergency medicine-trained physician – is able to treat a wide variety of health concerns that would otherwise have to be treated in an Emergency Room or doctor's office.
"It meets a real need we have in this market," says Winjie Tang Miao, the health system's Chief Experience Officer. "We're listening to what consumers are telling us, and they're telling us they want convenient and affordable care when and where they want it."
Texas Health Resources joins a growing number of health systems around the country employing DTC telehealth programs to reduce overcrowded ERs and funnel patients to the right care at the right time. But while many offer that service through a telemedicine platform, THR – which serves the Dallas-Fort Worth area, the fourth largest metropolitan area in the country – saw an interest in bringing back the house call.
"This is consumer-focused and personalized care," says Miao, who notes the health system also has an mHealth service that offers 24/7 access to an ER doctor through a texting app. "It's another option, another tool for us."
READ MORE: mHealth Provider Uses Apple Health Records to Support House Calls
THR is partnering with DispatchHealth, a Denver-based mobile health company, for the program. It's one of three health systems, along with Springfield, Mass.-based BayState Health and the Tacoma, Wash.-based MultiCare Health System, to team up with the company this year as it expands into new markets.
"We're advancing the model for urgent care, moving beyond a strict facility-based approach, by bringing high-acuity care to patients who typically struggle with access to care in their time of need," Jake Frost, DispatchHealth's market director for the Dallas area, said in a THR press release announcing the partnership. "They're sick and either don't want to or are unable to leave home. And we know that some of these patients may not really need to be seen in an ER, which can be costly and lead to long wait times."
The company's co-founder and CEO, Mark Prather, says more than half of all ER visits could be treated in more convenient and less costly settings like a virtual care platform or the home. This, in turn, could take a bite out of the estimated $18 billion spent on ER care each year, and also help improve clinical outcomes and reduce hospitalizations and return visits.
In a fast-growing field known as Mobile Integrated Healthcare, or MIH, health systems are creating their own mobile health teams in partnerships with local ambulance and EMR services. Others are partnering with national vendors like DispatchHealth and Heal, a Los Angeles-based company that launched in 2015 with backing from, among others, Lionel Richie, Qualcomm executive chairman Dr. Paul Jacobs and the Ellison family of Oracle fame.
"The entire model bases itself on redefining the doctor-patient model of care," Renee Dua, MD, Heal's co-founder and chief medical officer, said in a 2017 interview with mHealthIntelligence.
READ MORE: Rural West Texas EMS Providers to Try Out a Telehealth Backpack
This new version of the house call, she added, enables visiting providers to use mHealth tools, tap into the patient's medical record and improve on a model that leads to better outcomes.
"We have the kind of doctor who answers a question the patient didn't even think to ask," she said.
Miao, meanwhile, says the service now employed by THR focuses strictly on people who need urgent care services, and who would otherwise have to call 911 or find some means to getting to the hospital or doctor's office as soon as possible. Through a phone call or connection via an online portal or app, they can be screened for a home visit by a DispatchHealth team.
That team, company executives say, comes with "advanced on-site capabilities, such as stapling, IV fluids, IV medication administration, urinary tract infection treatment, catheter insertion, lab testing, rapid infectious disease testing, gastrostomy tube reinsertion, respiratory care and much more." It can even call for mobile imaging, such as X-rays and sonograms.
It also creates a summary of care that is forwarded to the patient's primary care provider, most often part of the Texas Health Physicians Group.
READ MORE: Baltimore Launches mHealth Program to Reduce 911 Calls, ED Transports
"All of that care is coordinated," she says.
At some point in the future, she says, these house calls might be for more than just emergency services. They might evolve to include, or feature, preventive and health and wellness care for patients with chronic conditions or those recently released from the hospital.
"We're definitely looking for new ways to engage with our patients," she says.