Text Messaging Program Offers an mHealth Nudge to Busy Parents
Park Nicollet's year-old text messaging program to parents of young children sees a surge in the scheduling of important, but often overlooked, well-child visits.
- A text messaging program is boosting engagement for a Minnesota health system's youngest patients simply by reminding their parents to schedule well-child visits.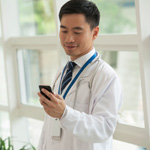 More than 70 percent of the parents contacted by the Park Nicollet Health System have scheduled visits since the Minneapolis-based provider launched the mHealth messaging program in January. The program focuses on parents with children up to the age of 3.
"We were noticing gaps in care with the pediatric well-child visits," says Ali Salita, Park Nicollet's project manager for clinical health support. "There are so many recommended well-child visits in a short period of time, and many parents are not familiar with the well child standards and the importance of these frequent visits. It's easy for parent to miss an interval – and subsequently miss valuable screenings, immunizations and provider education on growth and development."
"(R)eminding parents to schedule their children's well-child visits has many benefits," she says, noting the health system is working toward a standard of six visits within the first 15 months. "It helps prevent missed visits and gaps in care for the children. And it provides an opportunity to improve immunization rates in the state. Children receive most of their immunizations during well-child visits."
mHealth programs like Park Nicollet's play an important role in connecting healthcare providers with the communities they serve outside of the acute care setting. Because well-child visits aren't tied to specific or urgent healthcare concerns, parents often forget them or neglect to schedule them. But they're important in helping doctors track milestones in a child's development from birth through age 3 – and in detecting health concerns before they become serious.
READ MORE: Mount Sinai Touts Success of mHealth Asthma Project
Moreover, the smartphone has become the tool of choice for population health programs. It's been estimated that 91 percent of adults now own a cellphone, and that 81 percent are using them to send and receive text messages.
Earlier this year, California's Inland Empire Health Plan partnered with mPulse Mobile to push out a text messaging program to 17,000 newly enrolled members. The health plan found that an educational message about the health plan's services boosting engagement and satisfaction rates and even cut the percentage of members using the local emergency department for non-emergency issues.
Allison Hart, a vice president with TeleVox Solutions at West, says providers have to choose their message carefully, to encourage people rather than annoy them.
"By sending encouraging messages, reminders to follow care plans, detailed medication instructions and other supportive communications, physicians can not only make patients feel more valued, but they can also drive patients to take actions to improve their own health," she told mHealthIntelligence.com during an interview last month. "Since positive health outcomes often mean happier patients, physicians and their teams should look for ways to make technology-enabled engagement communications a routine part of patient care."
At Park Nicollet, Salita says a simple text message was an easy choice to provide a gentle nudge to parents.
READ MORE: Telemedicine Study Cites Tele-ICU's Positive Impact on Patients
"Most people have a cellphone and find it much more convenient to use that and text vs. taking action from a letter or a phone call," she says. "Texting also has added efficiencies. The link to the number to call to schedule is right in the text, so the parent does not need to go looking for a number. Texts can be stored, whereas letters typically get thrown away or buried in a pile of other letters. From a clinic perspective, texting also saves on resources. The more automated the outreach, the less time clinic staff is using to outreach to patients, and the more timely the outreach."
While partnering with CareWire on the text messaging platform, Park Nicollet is also working with Televox on automated reminders for scheduled appointments, which go out two days before the appointment and include the time and date.
The program, which began as a pilot in 2015 before extending to all of Park Nicollet's pediatric and family clinics, is branching out even more. Salita says they're now reaching out to parents of children between the ages of 3 and 10, and a similar text-messaging platform is being used to connect with patients discharged from Methodist Hospital, with a goal to reduce readmissions. Future uses may include reminding adult patients with chronic conditions of upcoming appointments.
Each iteration, Salita says, involves a careful consideration of the program's goals.
"It really depends on what you are looking to accomplish," she says. "A reminder to schedule is a reminder to schedule - that is fairly easy. How you go about setting up your reporting and your intervals for outreach is a bit trickier. Some of it is trial and error, some of it is based on clinical guidelines for when groups of people should be returning to clinic, (and) some of it is based on the type of visit you are setting the reminder for - for example, is it an annual visit or a periodic follow-up?"
READ MORE: New Jersey Boosts Telehealth Access for Veterans
"We had elements of each of these things in setting up our program," she says. "It was not that we rolled one thing out and that was it. It was like a quality improvement project with ongoing touch points. We wanted to understand what was working and what wasn't working, and we made tweaks as we went. And when rolling something out to large groups of people, you want to have a pretty error proof system. You don't want to impact patient care or satisfaction negatively."
Dig Deeper:
How Healthcare Secure Texting, Messaging Impact the Industry