The Challenges of BYOD Stretch Beyond Security
With 85 percent of US healthcare professionals using their own devices, hospitals need to ensure that they are prepared.
- In the business landscape, bring-your-own-device approaches are gaining steam because of the benefits it brings to the table. By allowing employees to bring and use their personal devices for work related tasks, company save money on IT investments, gain the benefits of using the latest technology and avoid the learning curve associated with employees learning new devices.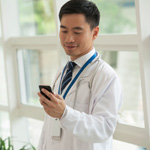 This strategy is also being embraced by healthcare organizations. They are reaping the same benefits as the enterprise (cutting costs, low learning curve), but can also improve patient outcomes by allowing physicians and nurses to access, collect and share patient information digitally and immediately.
According to a study published in the Journal of Hospital Librarianship by Jennifer Moyer, BSN, RN, of Simmons College Graduate School of Library and Information Sciences, an estimated 85 percent of US healthcare professionals are bringing their own devices.
However, there are challenges to BYOD which are associated with security, HIPAA compliance and IT infrastructure.
"Many challenges are associated with BYOD policies, but some issues can be resolved by setting expectations, ongoing education and putting reinforcement mechanisms in place," Moyer said in a recent interview about the study.
Security is the most forefront of the issues that BYOD faces. First is the fact that the devices in question are personal and will be taken home by doctors and nurses at the end of the day. On top of that, when not working, these individuals will be doing personal tasks and any virus or piece of malware that infects the device during this time will also touch the work applications and data that is stored on the smartphone, tablet or laptop.
Then there is the issue of a physician losing or having a device stolen. Again all of the work related applications and data it accesses (patient records and information) is now in the wind. This has happened and Moyer wrote about one such incident where a physicians laptop that contained more than 3,000 patient records was stolen and resulted in a $1.5 million settlement.
This highlights why risk assessment needs to be part of any preplanning for BYOD, but it is just one area. In a press release about BYOD adoption in the healthcare system, Hermant Goel, the chief operating officer at Spok, said that it can be a substantial undertaking.
"BYOD implementation has been slow, in part due to the considerable IT undertaking. There are many items for a hospital to consider before implementing a BYOD program," said Goel "Infrastructure planning around Wi-Fi build-outs is a big component, and all facilities have to deal with which staff members can bring their own devices and who pays for what. All of these details come with a price tag – both time and money – and these planning processes are taking between one and four years to complete. Many hospitals are still in the early stages and looking for experienced technical assistance."