Why Mobile Wearable Devices Are Vital for World Heart Day
- The mobile health industry has a wide variety of opportunities for consumers interested in improving their overall health and wellness. Those looking to exercise more often, maintain a nutritious diet, quit smoking, or lower their stress levels could benefit from mobile wearable devices such as the smartwatch or fitness trackers.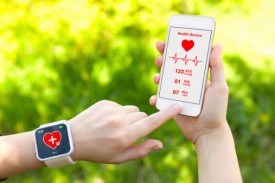 Today, heart disease is a major illness that affects a large percentage of the population. Through the use of mobile wearable devices, consumers and patients affected by cardiovascular disease could improve their fitness and diet as well as better manage their medications in an effort to improve the entirety of their health.
September 29 is known as World Heart Day and the National Forum for Heart Disease & Stroke Prevention announced in a press release that it is focused on preventing high cholesterol levels as well as other heart disease and stroke risk factors.
"The National Forum is where successful collaborations happen. Our vast network allows us to widen the reach of our members and create real change in communities," John Clymer, executive director of the National Forum for Heart Disease & Stroke Prevention, said in a public statement. "Working together, we are encouraging people to make healthy choices throughout the month of September. Of course, we are optimistic these activities will stick long term."
The Centers for Disease Control and Prevention estimates that 73 million Americans have high levels of "bad" cholesterol and only about half of these individuals are receiving treatment for this particular condition.
"High cholesterol is a known risk factor for heart disease, yet many people are unaware of their cholesterol levels or know if their level is too high for them," Dr. Ferdinand, professor of clinical medicine at Tulane University School of Medicine's Heart and Vascular Institute and immediate past chair of the National Forum for Heart Disease & Stroke Prevention, said in the release. "A cholesterol screening is a first step in preventing a heart attack, and, together with New Orleans East Hospital and CardioSmart, we are helping people take this simple step."
By embracing mobile wearable devices like fitness trackers, these consumers could boost their overall wellness and fitness levels. Additionally, there are a variety of mobile health apps that offer diet tips as well. The Forum is working to coordinate and better inform Americans about steps they can take to improve their heart health. Fitness trackers, for instance, could help encourage people to walk more or participate in sports.
"Walking is one of the easiest ways people can lower their chances of heart disease and its risk factors, such as high cholesterol, high blood pressure and diabetes," Green Bay Mayor Jim Schmitt stated in the press release. "The best part about walking is you don't need much more than 30 minutes to commit to your heart. I'm hoping to show our city that it is possible to find that time."
With the proliferation of mobile wearable devices, mHealth apps, smartphones, and tablets, it is no wonder that Bring Your Own Device (BYOD) policies have spread throughout the corporate world. However, as the recent Bitglass report shows, there are a variety of concerns such as personal device privacy that have negatively impacted the proliferation of BYOD policies as of late.
The report shows that privacy issues have been prevalent in one-third of every BYOD program surveyed. Additionally, the results of the survey show that only 9 percent of organizations have adopted a mobile application management solution, which may be troublesome for a company from an IT standpoint.
With data security a major focus point of BYOD policies, it is vital to prevent data breaches when implementing mobile devices within the healthcare setting or the corporate world. The report, however, found that 15 percent of all data breaches are caused by lost mobile devices such as smartphones or laptops. Additionally, 28 percent of those polled have not worked on addressing mobile security issues.
Whether in the healthcare setting or corporate space, employers who deploy BYOD strategies would be wise to ensure mobile health security measures are implemented throughout an organization.