2016 Will be the Year of the Healthcare Consumer (Again)
This past year, healthcare invited the consumer to the table to join in the conversation. Now, armed with better mHealth tools and platforms, health systems and doctors will put the consumer at the head of the table.
- 2016 may well be the year of the consumer in healthcare.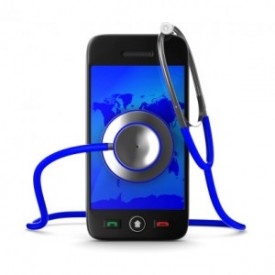 Wait a minute: That same prediction was made 12 months ago.
Let's try this again. Whereas 2015 saw the consumer and healthcare provider collaborate on care management, this coming year that very same consumer will take charge and direct his or her care management plans.
"2016 will be the year of the consumerization of healthcare," says Nick van Terheyden, chief medical officer of Dell's Healthcare and Life Sciences division and a man who'd had many different roles in the growing mHealth/telehealth/digital health movement around the globe. "We are all fact-checkers now. We all have access to incredible amounts of information."
The driving force behind this concept is consumer engagement – what van Terheyden calls "the blockbuster drug of the century." It holds the top spot on the to-do list for a vast majority of health systems and healthcare providers in the coming year. That's because an engaged consumer will be more responsive to care management, especially after the visit to the hospital, clinic or doctor's office (and that can either be in person or virtually).
Better engagement means better adherence, and that means reduced costs and waste and better clinical outcomes. That also means the consumer will return to that health system or doctor when the need arises.
"It's not about the doctor – it's about the data," says van Terheyden. "It's about filtering data and looking for ways to make it useful. … It's about (realizing) that mHealth is not an affront to physicians but a tool."
Increased consumer engagement leads to another pet phrase for 2016: Remote patient monitoring. Manu Varma, head of strategy for Royal Philips' Hospital to Home program, says healthcare will pay much more attention to post-acute care in the coming year because that's where the improvements can be made. Health systems that connect with patients in their homes and pay attention to remote monitoring will reduce wasted expenses and rehospitalizations and see better outcomes.
"This will be a new model of care for some health systems," he said. "But this is where we'll see the most activity."
Why? Better technology. Improved videoconferencing platforms, more accurate and diverse patient monitoring tools, better wearables, integrated electronic health platforms, and the ability of both the patient and the doctor to access information, move data and collaborate on the smartphone, tablet or laptop.
Varma also sees remote monitoring technology becoming more sophisticated, thanks to the rise of smaller, more nimble and integrated EMR platforms, improved APIs and app platforms, a competitive telemedicine market that will drive down costs, and the slow (some would say glacial) process of changing reimbursement patterns to make telemedicine more appealing.
"We're still definitely in the early adopter phase," says Ralph Derrickson, whose Seattle-based Carena is at the leading edge of the telemedicine services movement. Healthcare providers "aren't really prepared to recognize this trend, but they do realize that they need to be. … There's going to be a lot of movement here" in the coming year.
Like van Terheyden and Varma, Derrickson sees a more engaged and empowered consumer driving the market, and providers finally recognizing that they have to work with their patients rather than just for them. Furthermore, a consumer who takes the lead in organizing the care management plan will be more likely to follow it through.
"Health systems are very worried about quality," Derrickson says. "They're looking for ways to make that experience better for the consumer." And that means presenting healthcare to them where and when they want it, and in a format they can control and make their own.
2016 will be "the year of the informed healthcare consumer," he says.