A Payer Makes an Investment in Telehealth
CareFirst BlueCross BlueShield is putting roughly $3 million into 10 Mid-Atlantic programs looking to launch or expand telehealth services for underserved populations.
- A Mid-Atlantic-based health plan is making an intriguing investment in telehealth.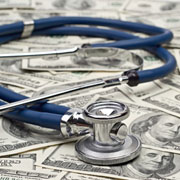 Baltimore-based CareFirst BlueCross BlueShield is earmarking nearly $3 million in grant money to 10 nonprofits and public health programs to expand their telemedicine capabilities to underserved populations in Maryland, Washington D.C. and Virginia.
Unlike other payers who might set reimbursement rates for specific platforms and outcomes, CareFirst is giving these small health systems the leeway to develop their own programs, to find out what works best for their staff and the communities they're seeking to serve. And they're supporting population health endeavors that might slip between the cracks of the traditional health plan.
The grants basically amount to three years of funding support for these programs, many just starting or seeking to get off the ground.
"CareFirst's support for programs like these is a crucial component to bringing adequate healthcare services to those who need it most," Maria Harris Tildon, CareFirst's senior vice president of public policy and community affairs, said in a release announcing the grants. "Whether improving upon behavioral health services, enhancing care coordination or increasing the availability of specialty care, support for each of these initiatives will help provide invaluable and innovative care to some of our most underserved communities."
CareFirst had issued a call for proposals last year, seeking out local public health and non-profit programs "aiming to use telemedicine programs to remove common barriers to health care services and address existing health outcome disparities." The proposals were selected based on several criteria, including sustainability and community need.
The selected programs are:
The Children's Hospital Foundation, which will get $300,000 to improve access to in-home pediatric care for Medicaid and uninsured patients;
Cornerstone Montgomery, which will get $415,000 to improve access to behavioral health services to those recently released from hospice care;
George Washington University Medical Faculty Practice, which will get $410,000 to launch a telemedicine clinic at Unity Health Care in Anacostia, serving residents of two Washington D.C. neighborhoods;
The Medical Society of Northern Virginia Foundation, which will get $250,000 to hire more volunteer specialists for its Northern Virginia safety net health centers;
Queen Anne's County Department of Health, which will get $400,000 to launch a mobile-integrated community telemedicine health program;
Mosaic Community Services, which will get $501,590 to improve behavioral health services and care coordination for residents in central Maryland;
Total Health Care, which will get $245,046 to develop primary care telehealth services for patients with diabetes and hypertension;
The University of Maryland Baltimore Foundation, which will get $100,000 to enhance telemedicine services at skilled nursing facilities in West Baltimore;
The Virginia Hospital Center Foundation, which will get $275,000 to develop a telemedicine-based outpatient clinic; and
The Western Maryland Health System, which will get $100,000 to develop remote monitoring and virtual visits for patients with chronic conditions.
Roughly three years ago, CareFirst distributed more than $1 million to healthcare providers who were using telemedicine to push behavioral health services out to underserved populations. The focus then was on finding community health centers, non-profits and public health groups that wanted to take their behavioral health programs to the next level with mHealth tools and services.
Dig Deeper:
How EHRs and Telehealth Technology Affect Healthcare