American Well, InTouch Health Announce Huge Telehealth Deals at ATA
Two major announcements today at the ATA conference in Chicago - American Well's plan to acquire Avizia and InTouch Health's plan to pick up REACH Health - signal a clear push toward enterprise telehealth platforms.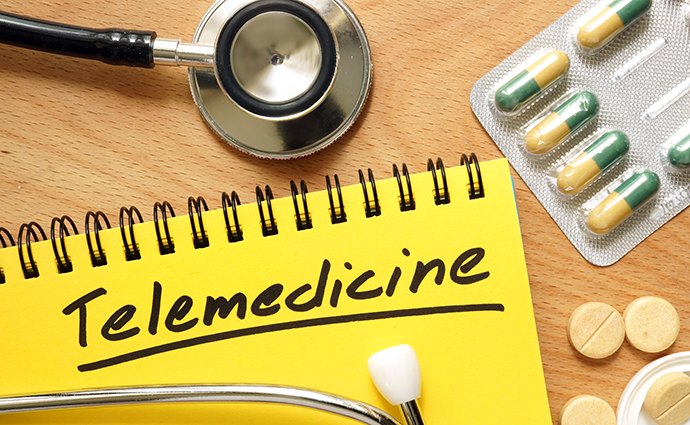 Source: ThinkStock
- The trend toward enterprise telehealth platforms over stand-alone programs took a significant step forward Monday with a pair of major news announcements.
In moves timed to make a splash at the American Telemedicine Association's ATA18 conference in Chicago, InTouch Health announced the acquisition of REACH Health, while American Well announced that it was acquiring Avizia.
The deals strengthen the portfolios of two upper echelon telehealth providers, giving them new software that would appeal to hospitals and health systems looking to consolidate their virtual care services on one platform.
Healthcare providers "are looking to bring their virtual care delivery system all under one roof," says Yulun Wang, PhD, InTouch Health's, Chairman, Founder and Chief Innovation Officer. They're moving away from telehealth and telemedicine programs that are started in one department or campus and looking for an overarching platform that can handle everything from high-acuity care to consumer-facing services to the growing field of remote patient monitoring.
In acquiring Avizia, American Well is beefing up its acute care telemedicine offering for large health systems. The Reston, Va.-based company's strength lies in cart- and software-based workflows in 40 clinical specialties, including telestroke and telebehavioral health. And it has a client base of some 1,300 US hospitals and about 70 health systems in 38 countries.
READ MORE: VA Puts Telehealth to Work in 'Anywhere to Anywhere' Care Initiative
"The comprehensive platform will also greatly enhance the provider experience, giving clinicians a single solution for treating all of their patients across the continuum of care, from low to high acuity cases," the two companies said in a press release issued this morning." Superior software solutions coupled with purpose-built telehealth devices will support a range of hospital use cases, enabling health systems to streamline clinical workflows; manage records easily by integrating with leading EMRs; optimize physician availability and utilization; and deliver care beyond their typical geographic reach."
"Together, we will offer a truly best-in-class, enterprise telehealth platform – for urgent care, chronic disease management, acute care, and post-acute care," Avizia CEO Mike Baird said in the release. "We will empower providers and patients to experience next generation care at the leading healthcare institutions in the world."
InTouch Health's acquisition of Alpharetta, Ga.-based REACH Health also fits into that mold. Wang, speaking to mHealthIntelligence.com at the ATA show on Sunday, said REACH Health's array of telemedicine services in post-acute care, direct-to-consumer and ambulatory care will enable Santa Barbara, Calif.-based InTouch Health to develop a more comprehensive, cohesive platform for providers.
"The telehealth industry is fragmented and health systems demand a single telehealth platform that can overcome interoperability challenges, ensure data management continuity, and scale from a single physician office to a multi-hospital enterprise," Joseph M. DeVivo, InTouch Health's CEO, said in a release. "With InTouch Health, healthcare providers have access to the complete telehealth package for any use case and in any care location. REACH Health fits nicely with InTouch Health's recent open-platform, device-agnostic strategy."
The two deals highlight a trend ushering the telehealth and telemedicine industry out of its early pilot-and-project stage and into one of established programs looking to prove sustainability. Now that more than half of the nation's health systems have launched a program or two, they're looking to consolidate those programs – often launched by physician leaders in one department to meet one or two specific clinical and operational goals – across the enterprise, so that they can be scaled up when and where needed.
READ MORE: American Well CEO: Telehealth Must Integrate With the Home and the Hospital
That was the point ironically made by REACH Health in its 2018 annual telehealth survey, released just last month.
The survey, taken of 411 healthcare executives in December 2017 and January of this year, found that almost half are now using an enterprise-wide telehealth or telemedicine platform, a significant increase from the 39 percent reported in 2017. And many are shifting over to an enterprise platform, with department-based programs dropping from 36 percent last year to just 26 percent in 2018.
"Not only are enterprise telemedicine programs becoming more common – they are markedly more successful," Steve McGraw, REACH Health's President and CEO, said in a press release accompanying the report. "When we correlated these approaches with participants' achievements, we found that organizations taking an enterprise approach are 30 percent more likely to be highly successful than organizations with a departmental approach."
Both InTouch Health and American Well have been active deal-makers this year.
This past January, InTouch Health announced plans to acquire TruClinic, a Salt lake City-based developer of direct-to-consumer telehealth platforms now in use in communities from San Diego to Morocco.
READ MORE: Leveraging Primary Care Telehealth for Convenience and Quality
"Historically, telehealth providers offer only a solution for a segment of the patient care continuum," the two companies said in a joint press release. "This has forced health systems to acquire and integrate solutions from multiple vendors, often creating interoperability challenges for physicians to care for their patients as well as data management continuity for health systems. InTouch Health will incorporate TruClinic's software into its offering such that patients can now initiate and receive a consult with their health system physician from their home, further extending InTouch Health's unified telehealth solution across the continuum of care, and solving this frustrating problem for physicians."
At roughly the same time. Boston-based American Well announced a partnership with Philips to embed the former's telehealth capabilities into the latter's consumer-facing digital health platforms, beginning with an mHealth app designed for parents with young children.
That deal will allow Philips to integrate the American Well software development kit into its HealthSuite digital health platform, adding on-demand virtual consults to the roster of services. Philips will also join the American Well Exchange, an online marketplace of telehealth and mobile health services for consumers and providers.
The deal is also expected to open American Well's product line to international expansion – a goal accentuated by the announcement of a $59.2 investment by Allianz, a Munich-based financial services company with access to more than 800,000 healthcare providers around the world. Allianz and American Well officials said they will work together to integrate American Well's telehealth technology into remote monitoring programs, virtual visit platforms and wearables for new markets.