CMS to Reimburse for Specialty Care Consults in Connecticut
The announcement comes after a year-long pilot in which primary care providers used an online platform to consult with cardiologists, dermatologists and other specialists.
- Connecticut health centers are now being reimbursed for telemedicine consults with specialists, helping residents who would sometimes have to wait a year for an appointment.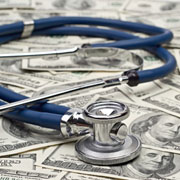 The announcement by the Centers for Medicare & Medicaid Services (CMS) follows a year-long pilot conducted by the Weitzman Institute and Safety Net Connect, a California-based developer of online care coordination platforms, with Community Health Center, Inc., which runs more than 200 clinics and care centers in Connecticut.
The CMS ruling enables Medicaid to reimburse CHC's federal qualified health centers for using SNC's eConsult platform. Through the pilot, more than 1,000 eConsults were facilitated by CHC, enabling primary care physicians to connect online with specialists in such fields as cardiology, dermatology and endocrinology.
Without this telemedicine platform, underserved Connecticut residents would wait several months to a year for an appointment with a specialist. Through the platform, a patient's PCP generally hears back from a specialist one to two days after the eConsult.
CHC officials said almost 90 percent of the eConsults done during the pilot were deemed successful. They've been working with private and public health plans since January to expand the platform.
"With limited specialty providers available to treat Medicaid patients, appointment wait times can be as long as a year, leading to healthcare disparities, higher rates of disability and complications in chronic diseases," officials said in a press release announcing the CMS decision. "SNC's eConsult system has been proven to increase access to timely, cost-effective specialty services for underinsured and underserved patients, many of whom live in rural areas with limited access to specialty care."
"Garnering Medicaid reimbursement approval for healthcare initiatives is a complex process," added Daren Anderson, MD, director of Weitzman Institute and vice president and Chief Quality Officer of CHC of Connecticut, in the press release. "Eligible programs must demonstrate solid proof of efficacy, cost savings and ongoing value," which CHC proved in the year-long pilot.
Telemedicine advocates see this as a good sign for future reimbursement programs, especially for services that link underserved and chronic care populations with specialty care providers.