Consumer Survey Sees Sharp Increase in mHealth, Telemedicine Use
Rock Health's 2nd annual report finds that almost half of those surveyed have used at least three different kinds of mHealth devices, and 22 percent are using telemedicine.
- Consumer acceptance of mHealth Was stronger in 2016 than any other year, according to a survey from Rock Health.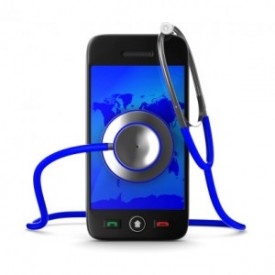 The San Francisco-based digital health venture fund reports that almost half of the consumers recently surveyed for its year-end report are considered active digital health adopters – meaning they've used there or more categories of digital health tools.
That's a sharp increase from the 19 percent noted in Rock Health's first survey in 2015, and well above the 12 percent flagged as non-adopters, down from 20 percent in 2015.
Among other statistics culled from the survey of more than 4,000 consumers, telemedicine saw impressive growth in 2016 as well. Some 22 percent used video-based telemedicine during the year, mostly during the last three months, and more than a quarter plan to use live video to receive care or send an image to their healthcare provider in the future. The most popular forms of telemedicine, meanwhile, were phone (59 percent), e-mail (41 percent) and text message (29 percent).
Rock Health's report, prepared by Ashlee Adams, Mark Shankar and company founder Halle Tecco, positions mHealth and telemedicine at the forefront of healthcare delivery in the coming year, as consumers take more control over their healthcare decisions and assume more of the financial responsibility.
The survey found that health data is a currency of unique value to consumers – 77 percent said they'd share their data with their healthcare provider despite having concerns about how that data is stored and protected from theft or misuse. Almost 87 percent said they should have control over their own data, and 86 percent said they should know when someone is collecting their health data.
Yet they're not doing it for money. According to the survey, 62 percent would freely share their data for medical research, while 42 percent said they'd do it if they were paid.
According to the survey, almost a quarter now own a wearable, twice as many as in 2015, and 75 percent bought it themselves (22 percent received it as a gift and only 2 percent were given a wearable by their employer).
More than half of those using a wearable are doing so "to become more physically active," rather than to monitor a health condition. As proof, 44 percent of those tracking their health are measuring physical activity and 31 percent heart rate, while only 14 percent are checking blood pressure and only 10 percent are using a wearable for medication adherence.
The shift to mHealth is partly explained by the shift to consumer-facing healthcare, and the value that the consumer places on tools and platforms that improve outcomes. Almost 40 percent of consumers in the Rock Health survey strongly agreed that they are willing to pay out-of-pocket for health expenses, mirroring a Kaiser Family Foundation report that shows an almost 30 percent increase in high-deductible insurance plans over the past two years.
Likewise, some 30 percent of telemedicine visits undertaken by consumers in the Rock Health survey were self-paying, compared to 11 percent paid for by insurance companies and 10 percent funded by employers.
Finally, the Rock Health survey found that those in good health are still the predominant users of mHealth technology. Only 8 percent of those surveyed who rated their health as poor purchased a wearable during the past year, and only 3 percent decided to use an mHealth app because their insurance company recommended it.
Conversely, those who are more healthy are more active in reviewing where they and their loved ones go for healthcare, according to the survey. They're also less willing to share their health data with all stakeholders, less inclined to ask for an electronic copy of their health records, and more likely to propose their own diagnosis to a physician and propose a treatment based on online information.
Dig Deeper:
Do Providers Really Benefit from Direct-to-Consumer Telehealth?
mHealth's Year in Review: From Texting to Wearables to Telehealth's Tricks (And Treats)