DLT Grants Target Telehealth Programs From Maine to the Marianas
Dozens of innovative connected health programs across the country will benefit from the $39.6 million in Distance Learning and Telemedicine (DLT) grants announced this week.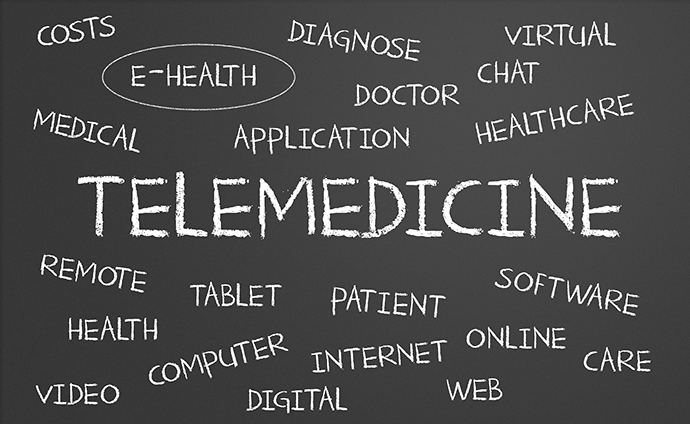 Source: ThinkStock
- Dozens of healthcare providers in 40 states and three US territories will be receiving federal funding to launch or expand telemedicine and telehealth programs.
US Department of Agriculture Secretary Sonny Perdue announced $39.6 million in Distance Learning and Telemedicine (DLT) grants to 128 projects, focused on either educational or healthcare needs.
"Empowering rural Americans with access to services for quality of life and economic development is critical to rural prosperity," Perdue said in a press release. "Distance learning and telemedicine technology bridges the gap that often exists between rural communities and essential education, workforce training and health care resources."
Among the healthcare projects slated for federal funding:
The Adventist Health System will be receiving $183,711 to build new virtual health platforms in California and Oregon to address opioid abuse and mental health. Officials expect the new networks will reach more than 22,000 underserved residents within two years.
Imperial County Behavioral Services, based in California, will be getting $127,500 to expand a telemedicine program for opioid abuse and treatment across 25 community clinics, affecting a population of almost 11,500 youths and adults.
The California Telehealth Network will receive $196,221 to purchase telehealth equipment for its Opioid and Chronic Pain Telemedicine Project, a partnership between the CTN and several rural clinics in the northern part of the state serving highly vulnerable populations. Some of the funding will be used to establish eConsult services.
The Landon Pediatric Foundation is receiving $453,280 to expand telemedicine services to 10 mobile health clinics in the Northern Mariana Islands, where residents typically have to fly to the Philippines, Hawaii or the mainland US to receive advanced care. The virtual care services will link the clinics to healthcare centers and provide opioid abuse treatment and other services to a population of about 55,000.
PanCare of Florida will be getting $499,961 to expand school-based telehealth programs to eight counties in Florida, creating one telemedicine hub and 23 end-user sites (usually schools) to deliver primary care, behavioral health and opioid abuse counseling to more than 6,500 students.
DISC Village Behavioral Healthcare in Florida is getting $160,614 to expand a telehealth program, through carts and kiosks, providing access to Medication Assisted Treatment (MAT) and recovery support to five jails, four community centers and a residential treatment facility in six counties in the Florida Panhandle.
The Georgia Partnership for Telehealth will be getting $108,385 to expand telehealth programs for opioid abuse treatment and other services in Stephens County, Ga., in a partnership with the Stephens County Mental Health Collaborative. The five-site project is expected to reach more than 26,000 residents.
Bacon County Health Services in Georgia will be receiving $430,512 to establish a telehealth network at 11 sites in four rural counties, serving more than 25,000 residents. Included in that network are telehealth programs at four schools.
The Hawaii Health Systems Corporation will be receiving $215,093 to create a specialty care telemedicine platform to provide access to treatment in pulmonology, oncology, cardiology, telestroke, opioid misuse, among others. The two-hub, 10-spoke network will integrate with remote clinics and other patient care locations to reach an estimated 27,885 residents and offer in-service training for healthcare professionals.
The city of Fruitland, Idaho will be getting $52,480 to create a telemedicine network enabling Payette County Paramedics to communicate with healthcare providers while in their vehicles. The project will serve approximately 23,000 residents in Payette County.
HSHS St. John's Hospital is getting $429,008 to create a telemedicine network in 14 healthcare sites in central Illinois to provide substance abuse treatment through the Heroin Opioid Prevention Education (HOPE) telehealth network. The network of eight virtual urgent care sites, two occupational health clinics and four hospital ED tele-consult sites is expected to provide services for some 25,000 residents each year.
Big Sandy Health Care in Kentucky will be getting $370,875 to create telemedicine stations in five schools and five community clinics in a four-county area. The project will provide primary care, specialty care, opioid education, counseling and treatment as well as specialty care and educational sessions to some 3,250 students, faculty and patients.
Lafayette General Health in Louisiana is getting $272,900 to expand the South Louisiana Telehealth Network to 28 schools in three parishes serving some 27,000 students, as well as three parish jails containing roughly 5,000 inmates.
Primary Care Providers of Louisiana will be receiving $499,592 to connect rural patients in nine Louisiana parishes with behavioral health, specialty care and opioid treatment services through a telemedicine network reaching six community health centers and 14 schools.
The Maine Rural Health Collaborative is getting $479,679 to create a telehealth network linking healthcare facilities in four rural counties to healthcare providers in Maine and New Hampshire for treatment and training addressing opioid misuse, advance professional development and advanced healthcare services. The network will improve access for some 115,000 remote and rural Maine residents.
Munising Memorial Hospital in Michigan is getting $303,337 to purchase telemedicine equipment for six sites in two counties. The equipment will replace outdated mammography equipment and provide improved breast imaging services for close to 3,000 residents.
Pine Rest Christian Mental Health Services will be receiving $102,987 to expand telemental health and substance abuse services to 13 sites in northern Michigan serving more than 240,000 residents.
Southeast Missouri Behavioral Health is getting $72,074 to expand telehealth treatment capabilities at 14 healthcare clinics in 13 rural counties serving about 75,000 residents.
Lester E. Cox Medical Centers in Missouri is getting $235,472 to help CoxHealth extend telemedicine services to 17 rural schools and eight rural clinics serving some 30,000 residents.
The Lake Regional Health System in Missouri will be receiving $443,417 to establish the Lake Regional Mid-Missouri Telemedicine Program, providing specialty care to 13 facilities in five counties serving more than 35,000 rural residents.
The Jersey Community Hospital District in Illinois is getting $326,456 to create a telemedicine platform offering substance abuse and other treatment through the newly formed Community Addiction Recovery and Education Services (CARES) Network at seven sites. Care will be coordinated by the hub site at Mercy Virtual in Chesterfield, Mo.
The Commonwealth Healthcare Corporation is getting $143,853 to establish telepharmacy services on the islands of Tinian and Rota in the Northern Mariana Islands. The project is expected to benefit some 5,600 residents who have no pharmacy services.
Forrest County General Hospital in Mississippi is receiving $472,835 to launch telepsychiatry, tele-ICU and tele-ER services, with the potential to serve more than 20,000 residents.
The Heartview Foundation will be getting $154,812 to launch a telemedicine network at eight locations offering behavioral health services to more than 81,000 residents of rural North Dakota.
The Rural Nebraska Healthcare Network is receiving $265,159 to replace obsolete telemedicine technology at nine sites in the western part of the state, serving some 43,000 residents.
Rural Health Partners is getting $499,800 to help the Heartland Health Alliance expand telemedicine services to 14 hospitals in Nebraska, Iowa and Kansas. The program will provide opioid misuse and treatment services, mental health and other medical specialty care to some 37,000 residents.
Renown Health in Nevada is getting $439,312 to create a two-hub, 11-spoke telemedicine network offering specialty care, substance abuse treatment and other service to more than 45,500 Nevada residents.
The Coquille Indian Tribe will be receiving $57,370 to create a telehealth network at the Coquille Indian Community Health Center to serve roughly 13,000 Native Americans living throughout southwestern Oregon.
The Allegheny Singer Research Institute is getting $119,500 to create a telestroke program at Clarion Hospital in Pennsylvania. The telemedicine platform will connect the rural hospital with specialists at Allegheny General Hospital in Pittsburgh and serve an area of roughly 159,000 people.
Avera Health is getting $436,054 to expand its five-state telehealth network to another 42 sites reaching more than 411,000 additional residents.
Texas Tech University Health Sciences Center will be receiving $499,227 to expand its telemedicine platform to seven additional sites, including schools.
Utah Navajo Health Systems will be receiving $133,208 to expand its telehealth platform at four health centers, serving almost 1,500 Native Americans in southern Utah.
The St. Charles Health Council will receive $269,044 to create telemedicine stations at five locations in four rural Virginia counties. The telemedicine carts will connect the sites to nearby healthcare providers for specialty care, as well as provide access to enhanced primary, specialty and mental health care services to more than 97,000 residents.
Plessen Healthcare will be getting $372,008 to add telemedicine services at three healthcare locations on the island of St. Croix, extending care to roughly 82,000 residents.
The CAMC Health Education & Research Institute will be getting $163,223 to expand virtual care services for patients in 46 facilities in 16 rural Appalachian counties in West Virginia, southern Ohio and eastern Kentucky who suffer from chronic kidney disease.
The Northern Arapaho Tribe will be getting $208,961 to expand telehealth services on the Wind River Reservation in Wyoming, improving care for more than 13,000 Native Americans.