mHealth Model focuses On Early Detection of Chronic Conditions
A Minnesota health system is using a telehealth platform to connect with consumers and assess their chances of developing diabetes or heart disease.
- A Minneapolis health system is launching an mHealth tool designed to identify people at risk of diabetes or heart disease and steer them to treatment.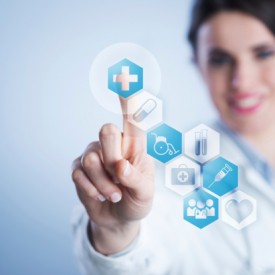 Fairview Health Services is making the online health risk assessments available to its select members iof its 22,000-plus employee workforce, and plans to expand the program to its patients and all Minnesota residents. Officials also hope to expand the telehealth service to cover more chronic conditions.
"We expect this service will make it possible for our providers to diagnose chronic conditions sooner and to recommend immediate interventions if a problem is found," Dang Tran, MD, Vice President of Medical Practice for the Fairview Medical Group, said in a release. "Americans are accustomed to conducting commerce online, and we believe many would love to have the same degree of access and service for meeting their healthcare needs. This new approach makes it much easier to get a diagnosis for chronic diseases that are among the most prevalent and the most expensive to treat."
The digital health platform holds promise for early detection of chronic conditions by pushing resources out to consumers when and where they'll use them, rather than waiting for them to visit their doctor or show the first signs of the disease. For example, 8.1 million of the 29.1 million Americans with diabetes are undiagnosed, according to the Centers for Disease Control and Prevention; putting them on a care management plan before they develop symptoms could save millions of dollars in healthcare costs and improve outcomes later on.
Using an asynchronous platform developed by Zipnosis, Fairview will offer an online adaptive questionnaire, accessible on iOS and Android devices, that calculates the patient's risk of developing diabetes or heart disease. If needed, the patient is issued a ZipTicket boarding pass, or an instant referral to a nearby lab for diagnostic tests.
Within 48 hours after the labs are taken, a Fairview provider will review the questionnaire and tests and issue a recommendation via e-mail, along with links to educational resources. The patient can then schedule an appointment with his or her primary care provider, if necessary.
The mHealth tool could also help healthcare providers reach underserved populations who don't have insurance or visit a doctor on a regular basis.
"In the future, when the program is more widely offered, if patients don't have a primary care physician, this is an excellent opportunity for us to work with them to establish a medical home," Tran said.
Dig Deeper:
Using Apps to Bridge the Gap Between Healthcare and Health Management
CMS Gives Green Light to Digital Health Diabetes Prevention Program