mHealth takes aim at Parkinson's
A Scripps Health institute and the Michael J. Fox Foundation will use wearables and precision medicine to better diagnose and treat the tremor-based disease.
- Researchers are combining remote patient monitoring technology with precision health in an effort to improve the diagnosis and care of patients with Parkinson's disease.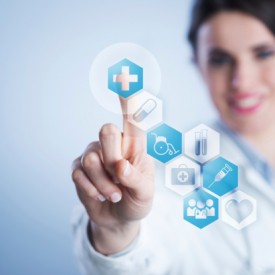 The Scripps Translational Science Institute will lead the study, targeting the estimated 35 percent of people who are misdiagnosed with Parkinson's. The San Diego-based center is partnering with the Michael J. Fox Foundation for Parkinson's Research and Intel's Health and Life Sciences unit.
"Because there is no single reliable test for Parkinson's, a diagnosis is often based on subjective observations by a physician," Ali Torkamani, PhD, director of genome informatics at STSI and the study's lead investigator, said in a press release. "Misdiagnosis occurs in as many as 35 percent of cases, according to several clinical studies. By utilizing the power of precision medicine, we hope to create a more reliable method for screening patients exhibiting possible Parkinson's symptoms."
The GADGET-PD (Genetic and Digital Diagnosis of Essential Tremor and Parkinson's Disease) study will focus on 96 people recruited through the Parkinson's Disease and Movement Disorder Center at the Scripps Clinic in La Jolla, Calif. Half of the participants will be Parkinson's patients, while the other half will have been diagnosed with essential tremor, the most common movement disorder and often misdiagnosed as Parkinson's. All of the participants will contribute blood samples for DNA sequencing, and researchers will analyze that genetic data for gene variants associated with a risk of Parkinson's.
The participants will then receive a smartwatch and access to the smartphone-based Fox Insight app, developed by the Fox Foundation and Intel to collect tremor data. They'll wear the smartwatches 24 hours a day for two weeks, and three times a day they'll induce a resting tremor by playing a logic game for two minutes on the app. Data collected through the smartwatch and the app will be streamed to a cloud-based platform developed by Intel and used by STSI.
READ MORE: Mobile Health Application Reduces Depression Symptoms by 42%
"The ability to diagnose Parkinson's more definitively would help patients manage their care and researchers confirm that the volunteers in their trial truly have the disease they're targeting, raising the likelihood of successful treatments passing clinical testing," Mark Frasier, PhD, senior vice president of research programs at the Michael J. Fox Foundation, said in the release. "This project's approach to combine genetic analysis and objective measures shows promise in advancing toward that goal."
Roughly 5 million people around the world and one million Americans live with Parkinson's. About 60,000 new cases are diagnosed in the U.S. each year, though healthcare providers say thousands more are either undetected or misdiagnosed. The most common method for diagnosing Parkinson's is a 60-question test, with answers rated on a scale of 1 to 5.
For several years, organization like the Michael J. Fox Foundation and Intel (whose late founder, Andrew Grove, was diagnosed with Parkinson's in 2000) have been working to develop remote patient monitoring platforms that enable researchers to gather data from patients outside the office or clinic.
"The lesson here is you simply cannot manage what you cannot measure," Ken Kubota, director of data science for the Michael J. Fox Foundation, told an audience at the 2014 mHealth Summit outside Washington D.C. Just a few months earlier, the foundation and Intel had announced a project to collect data from Parkinson's patients through Pebble smartwatches.
"Nearly 200 years after Parkinson's disease was first described by Dr. James Parkinson in 1817, we are still subjectively measuring Parkinson's disease largely the same way doctors did then," Todd Sherer, PhD, CEO of The Michael J. Fox Foundation, told HealthITAnalytics.com at the time. "Data science and wearable computing hold the potential to transform our ability to capture and objectively measure patients' actual experience of disease, with unprecedented implications for Parkinson's drug development, diagnosis and treatment."
READ MORE: What Features are Needed to Make an mHealth App Effective?
Also in 2014, an Australian company unveiled the Parkinson's KinetiGraph (PKG), a wrist-worn device designed to capture movement and medication data to help patient and clinicians more accurately monitor symptoms and manage the condition. That device is currently being tested by Parkinson's UK, where some 127,000 people are diagnosed with Parkinson's.
A Parkinson's study was also one of the first launched on Apple's ResearchKit platform in early 2015. The mPower app, developed by the non-profit Sage Bionetworks with funding from the Robert Wood Johnson Foundation, uses surveys and tasks that, in turn, activate sensors on an iPhone to collect and track health and symptoms of PD progression, including dexterity, balance and gait.
"Our goals are to learn about the variations of PD, to improve the way we describe and manage these variations, and to learn whether mobile devices and sensors can help measure PD and its progression to ultimately improve the quality of life for people with PD," the mPower website reports.