New Study is Bullish on Remote Patient Monitoring
A Spyglass report finds that health systems are turning to home health agencies to launch and maintain RPM programs, many of which rely on mHealth tools and platforms.
- Health systems looking to get a handle on population health are finding a valuable partner in home health agencies – and they're using mHealth tools and platforms to make that connection.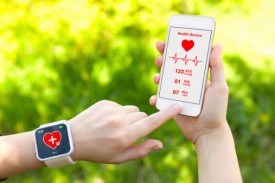 Two-thirds of hospitals and health systems recently surveyed by Spyglass Consulting have deployed remote patient monitoring solutions, and they're partnering with home health networks to connect with patients at home and manage large populations, particularly those with chronic conditions. With the nation's landscape shifting to managing value-based risk, they're recognizing the value in extending care beyond the hospital and into the home.
"Healthcare delivery is being redefined," says Gregg Malkary, founder and managing director of the Spyglass Consulting Group, which conducted in-depth interviews with more than 100 health systems for its Trends in Remote Patient Monitoring 2015 report. "The whole dynamic is changing. Health systems are looking at how to take on population health, and they're (acquiring or teaming up with) home health systems to make that happen. Home health actually has a very important place at the table now."
Malkary credits the passage of the Affordable Care Act with facilitating the move toward value-based care. As health systems assume more of the risk associated with caring for patients, they're recognizing the value of remote patient monitoring. They're also recognizing that they can't do it alone – at least not economically - and are either creating post-acute care networks or partnering with others in the health management chain to extend care into the home or other locations.
They're also recognizing the value of mHealth. A full 84 percent of those surveyed are using mobile devices – especially tablets – to support patients with chronic conditions at home or in a care facility. And a majority are looking to incorporate patient-owned devices like smartphones, or considering wearables like smartwatches and activity monitors.
Malkary says those solutions have evolved beyond just collecting data and are now viable patient engagement platforms – a key component to moving beyond the post-discharge model of care and into the longer-term health management model. They're even taking a closer look at consumer-facing devices, the idea being that if it appeals to the patient, it will offer a platform through which the provider can have a voice and influence that patient's behavior.
"There's a clear migration away from the solutions of yesteryear," said Malkary, referring to the more expensive, bulky and relatively stationary home monitoring platforms that dominated the marketplace just a few years ago. Today's solutions are smaller, less expensive and – most importantly – mobile, enabling provider and the patient to communicate and collaborate whenever and wherever both feel most comfortable.
Those connections mean the providers are getting more data from different sources, and that's fueling yet another mHealth evolution: the rise of analytics. According to the Spyglass study, almost 80 percent of the health systems interviewed are embracing analytics and decision support tools that turn all that data into "actionable knowledge and insights to help manage and monitor value based risk associated with population health." In other words, they're finding ways to take vital signs, diet and sleep patterns and activity measurements and convert them to quality metrics that facilitate improved outcomes and reduced hospitalizations.
Malkary said he expects more and more health systems to launch remote patient monitoring programs, either by acquiring home health agencies or partnering with them. And he expects those programs to address not only chronic care, but seniors, post-discharge patients and others who could benefit from a platform that reaches outside the hospital and into the home. He also expects payers to either partner with health systems in these programs or even subsidize them altogether.
"They can't afford not to explore what this means," he said. "They're going to want to experiment. It's a very bullish industry right now."